2017 Ride for Kids - APRIL 8th - Glen Helen Raceway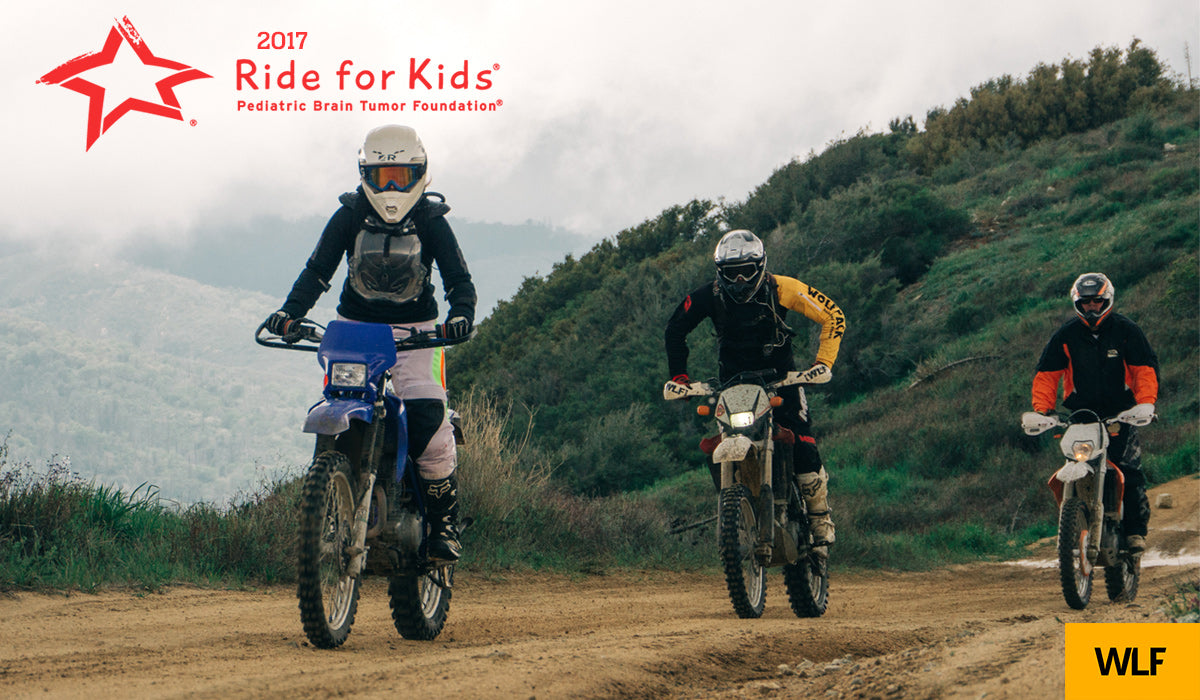 With last years Ride for Kids being such a success, we are at it again. This year we are getting started earlier with grander goals and more giveaways in addition to the awesome group ride. Brain tumors are the leading cause of death among children, and we are proud to contribute to supporting the Ride for Kids and the fight against these life-threatening diseases.
WLF Enduro would like to rally the troops in support of these kids and their families. Donations contribute to funding the research of pediatric brain tumors and also educational resources including college scholarships for survivors as well as emergency financial aid for families. Keep and eye on Instagram for giveaway details and plan to join us Saturday April 8th at Glen Helen Raceway Park for a dual sport adventure where the only thing that feels as good as helping a amazing cause is twisting the throttle with great people.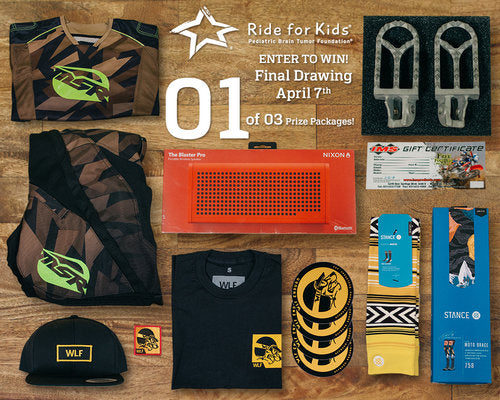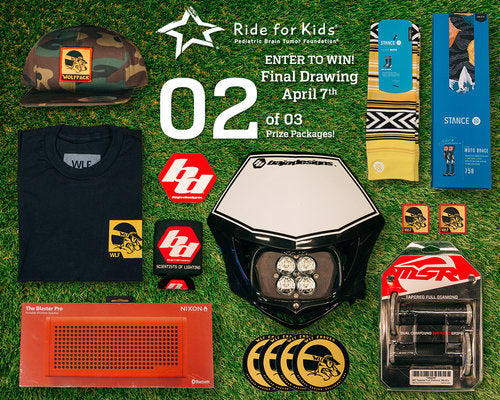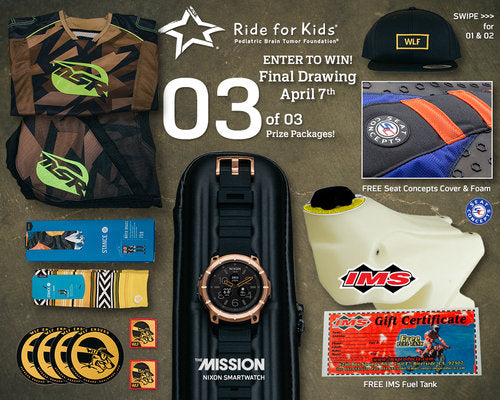 WLF // RIDE FOR KIDS GIVEAWAYS!
WLF and our partners are pulling out all the stops to raise some big bucks for this year's Ride for Kids Event / Charity Ride April 8th. 3 Amazing Prize Packages will be given away!
HOW TO ENTER: A donation minimum of $10.00 gets you in the raffle which will be held on April 7th. Each additional $5.00 gets your name in the hat again for a better chance to win.  Example: $10.00 is 1 Ticket, $15.00 2 Tickets, $20.00 is 3 tickets etc...
BE SURE TO CLICK 'JOIN TEAM' TO BE ENTERED INTO RAFFLE
ALL 3 PRIZE PACKAGES WILL BE DRAWN APRIL 7TH. 1 PRIZE PACKAGE PER WINNER.
5 easy steps
1.      Click the team URL and choose Join Team
2.      Returning user login or join as a new participant
3.      Select a participation type (default is Rider) & Make a donation if you choose too
4.      Update/enter your personal contact information, point out credit to WLF
5.      Agree to the waiver
6.      Review registration & submit

EVENT DETAILS:
APRIL 8TH - GLEN HELEN RACEWAY PARK
2017 SoCal Dual Sport and Adventure Ride for Kids
Glen Helen Raceway Park
18585 Verdemont Ranch Rd.
San Bernardino, CA 92407
LOCAL INFORMATION
Saturday Dual Sport Event!
Date and location subject to change
REGISTRATION: 7 to 8:30 a.m.
KICKSTANDS UP: 9:00 a.m., rain or shine!