The 5th Annual MotoDoffo // KC66 Event - Saturday, June 23rd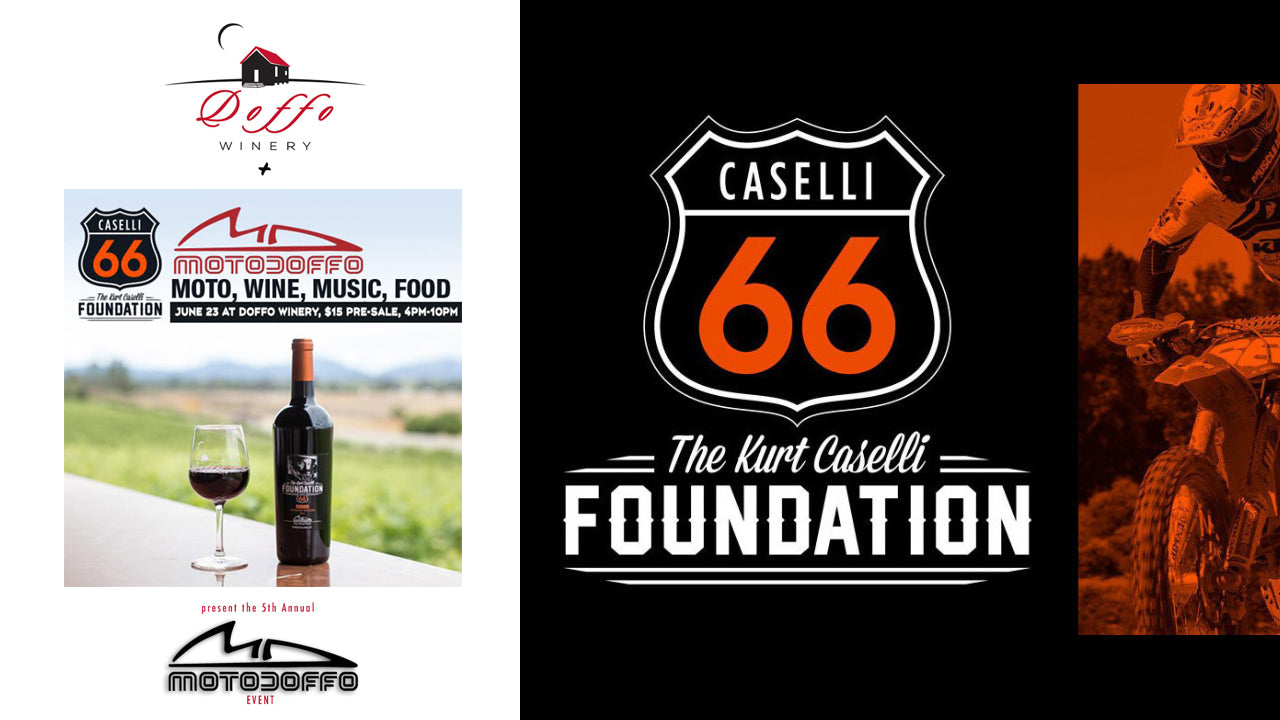 WHAT TO EXPECT:
·     Free Commemorative Wine Glass with Pre-register ticket
·     Red Bull's Geoff Aaron Trials Performance
·     Live Band
·     Food, Wine and Beer
·     Limited Edition Kurt Caselli Wine; Special Packages Available
·     Raffle
·     Live Auction
·     More than 150 rare, vintage and unique motorcycles on display from MotoDoffo Vintage Motorcycle Collection and sponsors
MILESTONES OF THE KURT CASELLI FOUNDATION
Since 2014 The Kurt Caselli Foundation has been raising money over $800,000 to Protect and Support The Lives Of Off-Road Riders
2018 Projected Safety Budget $120,000 in 3 major areas:
Race Course & Safety, Rider Safety During Events and Injury Management. 
·     Donating over 100 Yellow Caution Flags to major off-road series.
·     Donating the Kurt Caselli Safety Vehicle to the GNCC Race Series.
·     Providing Ambulance service for Babes In The Dirt 4, a Babes Ride Out event.
·     CPR & First Aid Training Courses
·     Over 300 Safety Bibs for Youth Racers donated to major off-road race series.
·     Bringing on David Kamo as the KCF Race Course Safety Advisor
For 2018, we're changing it up and starting the 5th annual MotoDoffo event benefiting the Kurt Caselli Foundation as the sun starts to set for the day —please join us for an evening of celebrating Kurt Caselli and the Foundation's accomplishments in honor of Kurt. The event will open its doors at 4:00pm and run into the night at the beautiful Doffo Winery! Doffo is dressed to the nines in some of the coolest motorcycles on the planet, including Kurt's race bike and rally bike.
 WATCH THE VIDEO RECAP FROM LAST YEAR'S EVENT:
Take a look back at the 4th Annual MotoDoffo Event Benefiting The Kurt Caselli Foundation hosted by Doffo Winery in Temecula, California and presented by SCORE International. Each year we gather together to pay tribute to the man who inspired so many people, and to raise money to help The Kurt Caselli Foundation improve the safety of off-road racers.
FACEBOOK: https://www.facebook.com/racertv WEBSITE: http://www.racertv.com INSTAGRAM: http://instagram.com/racertv TWITTER: https://twitter.com/racertv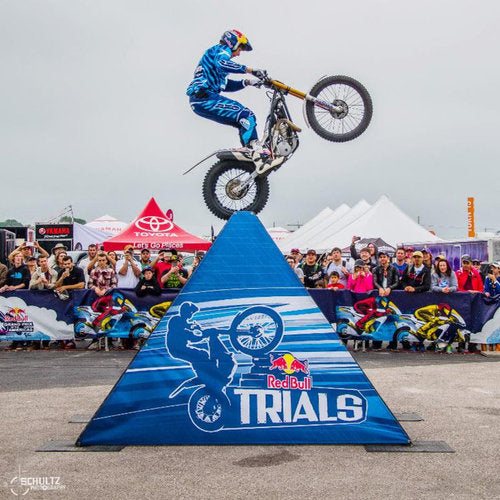 Another mentionable item KCF has donated to help improve rider safety is an ultrasound machine that lives aboard The Alpinestars Mobile Medical Unit traveling the Supercross & Pro Motocross circuits each year allowing better evaluation of riders suffering injury.
So we want to share with you what we've been up to, our plans for 2018 and beyond. Drink great wine, have a beer, share a night with family, fellow riders & friends and bid on some amazing items (we'll update you on just a few of things you can expect to see there and have the opportunity to possibly own!). Come say hi to Momma Caselli, Sarah and Carolyn and share your Kurt stories with them. Don't miss out! Get your pre-sale tickets now and receive a KC66 Commemorative Wine Glass upon entry (must be present to receive the glass- no shipping).
Red Bull's ten-time National Trials Champion Geoff Aaron will display his trials skills with a live performance. The Doffo family will have a special blend of the 2018 Kurt Caselli Tribute wine for purchase; special packages also available.
Please join us alongside the Doffo family, Geoff Aaron and industry friends in an evening of celebrating the man who was the legend, Kurt Caselli. A man who loved motorcycles and all the people that make the off-road community feel like family. Share stories, memories and win some cool things! Help us fund more safety projects —and let us know what we can help within your off-road motorcycle race series (please see "Notes on Safety Projects" field during check out)!