WLF RM125 Build - Alive and Well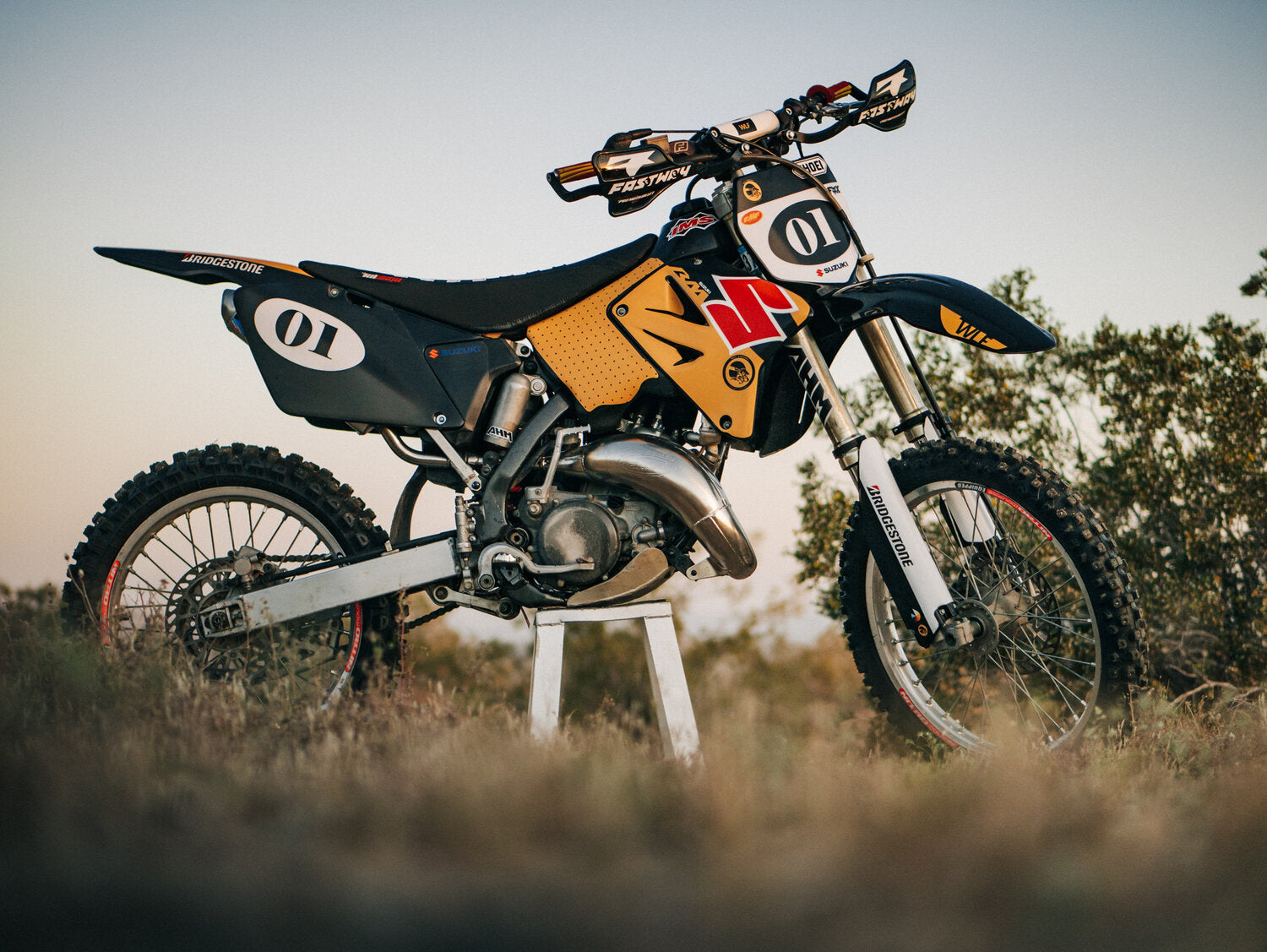 The year was 2012 and the smell of change was in the air...or actually wasn't in the air (yet). Something had been missing from the stable for years and one WLFounder felt it, no smelled it. What was it you ask? Well, 2-stroke smoke of course. Something that had been missing in WLF for too many years. This was an ode back to the childhood bikes that a few of the crew had holding onto the throttle for dear life. The tightly wound motors, the ping of the right pipe, the snap of the band when it hit so hard they felt like they were lifting off. This was all a feeling that W.E. had to bring back into the pack.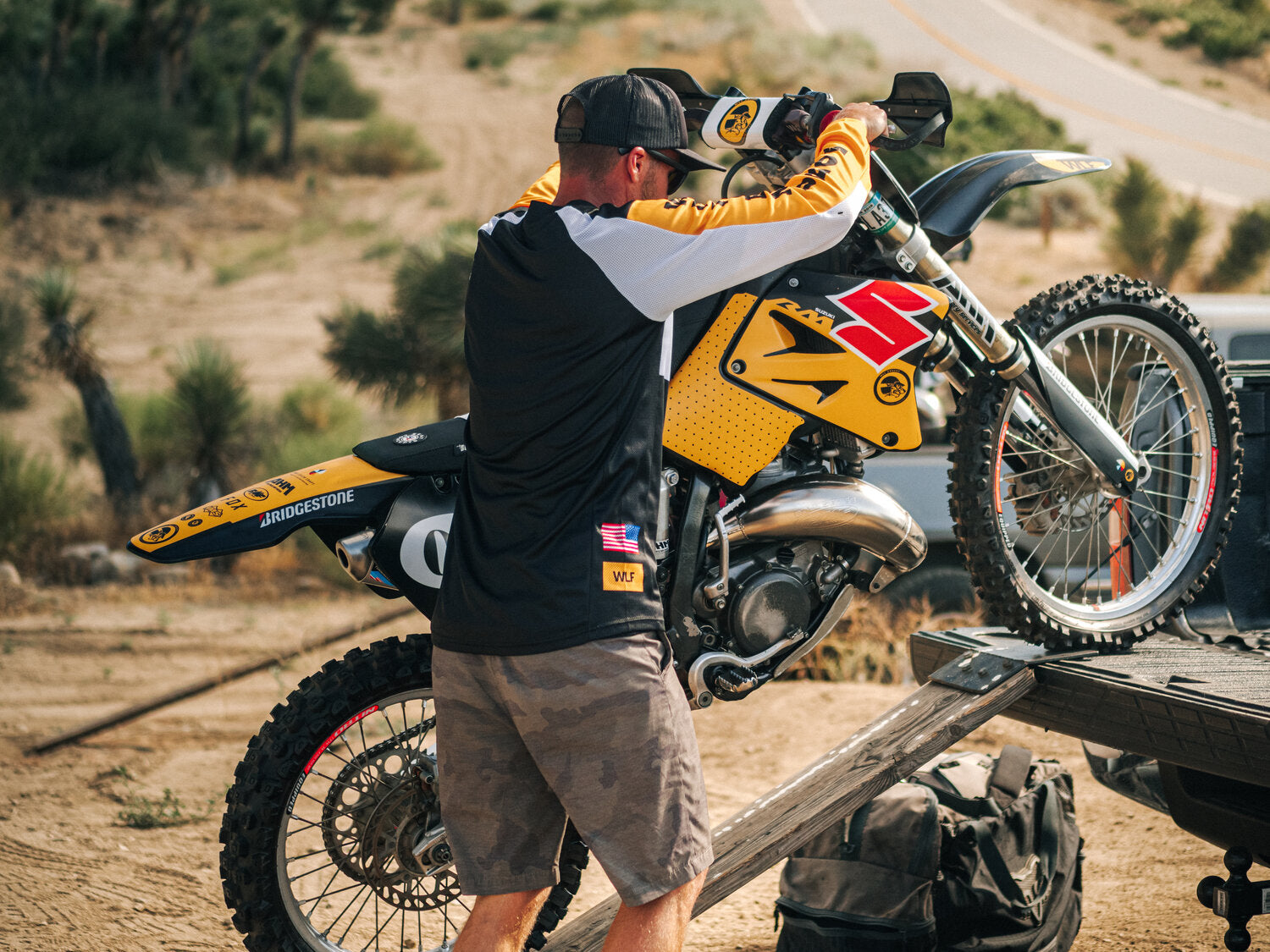 The story goes as such, W.E. came across one of those "deals" that can't be passed up. You know the kind when you're scrolling through Craigslist and say to yourself, "this can't be real…" and immediately you pull your phone up and dial the number. You ask all the right questions, do your due diligence to befriend the seller but not too friendly to seem overly eager in capturing the deal of the century. You know the deal W.E. speak of, and when ya land that deal there's no feeling like it.   This particular deal on Craigslist was the infamous 2001 RM125. Posting said something to the tune of "As is. Doesn't run. Lots of opportunity, no tire kickers. $500 takes er'". 
Driving up to check it out was just like any other Craigslist exchange. A rust bucket that's been brought out and shined up just enough to be "presentable" to the potential buyer. The owner was the average joe that had not much to say about the machine except for "this bike ripped the last time it was ridden". Taking him at his word the engine turned over so in true WLF fashion, shook the dude's hand and drove away with a brand new hunk of junk. Time to put blood sweat and beers into it and get that yellow bandit on rails in the trails.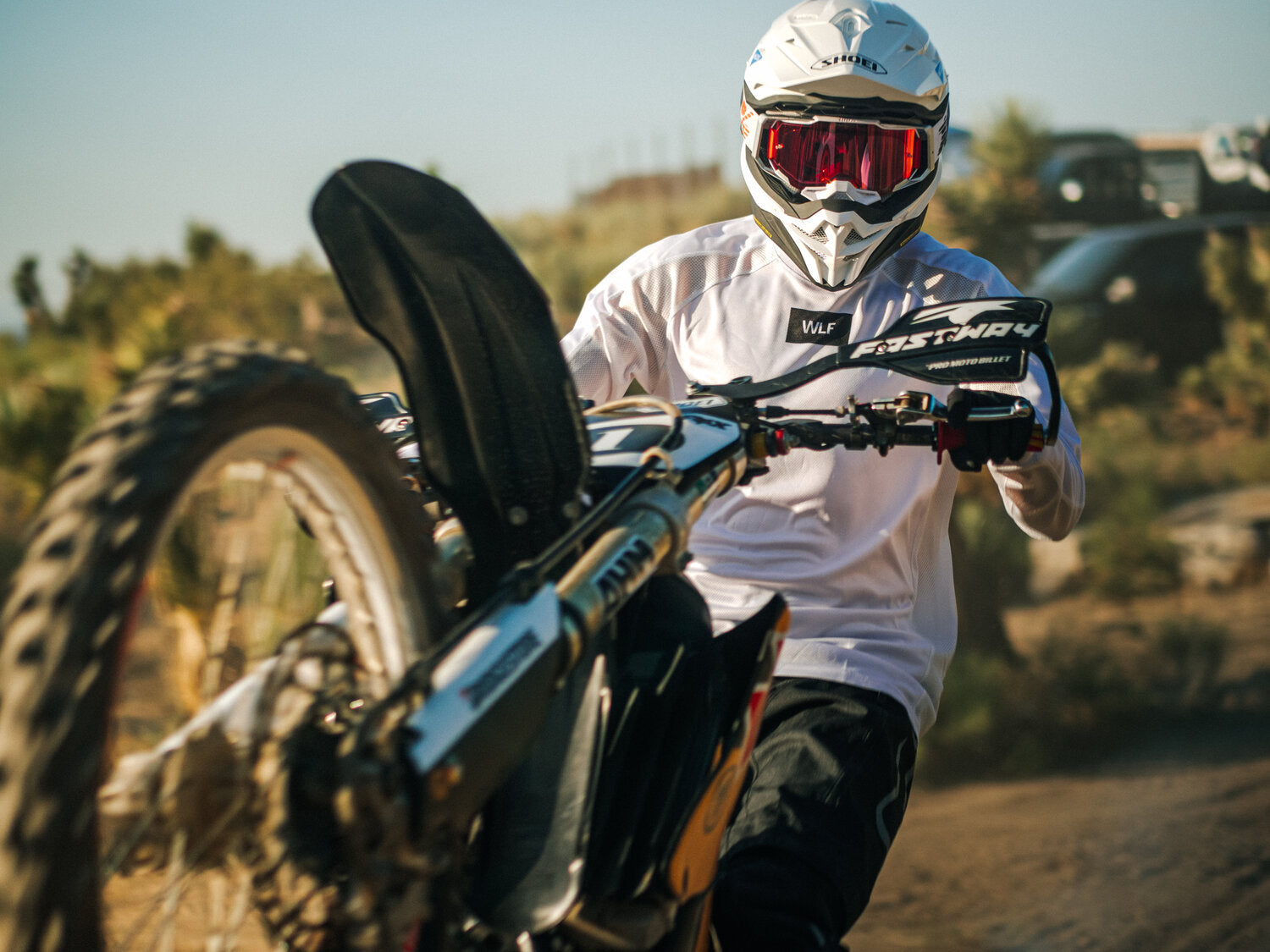 The 01' was rusty and faded. The condition it was in, you would have thought it was going to take a full team to pull apart to do a ground up rebuild. With WLF the thought process goes something like this "buy an old bike and see how little it will take to actually get the thing running". 
A solid carburetor cleaning and some basic TLC and she fired up and ran strong. Ever since that moment this little 125 has been through the ringer. Being a buddy bike that is always up to be a loaner on any given weekend and has been thrashed in the name of love and riding. Rebuilt, fixed, taped, glued, zipped tied; point to the part and it's likely been given a band-aid. Fixed in the least expensive way possible, sometimes duck tape and bubble gum fixes just to keep it shredding. Being passed around as a buddy bike to countless people who have gotten joy from it and the bike has never let us down. As you can imagine a bike getting this amount of "love" this two-smoker has over the last 8 years it was in desperate need of a full going over.
OVERHAULING ON A BUDGET. KIND OF HELPS WHEN YOUR WLFRIENDS ALL PITCH IN.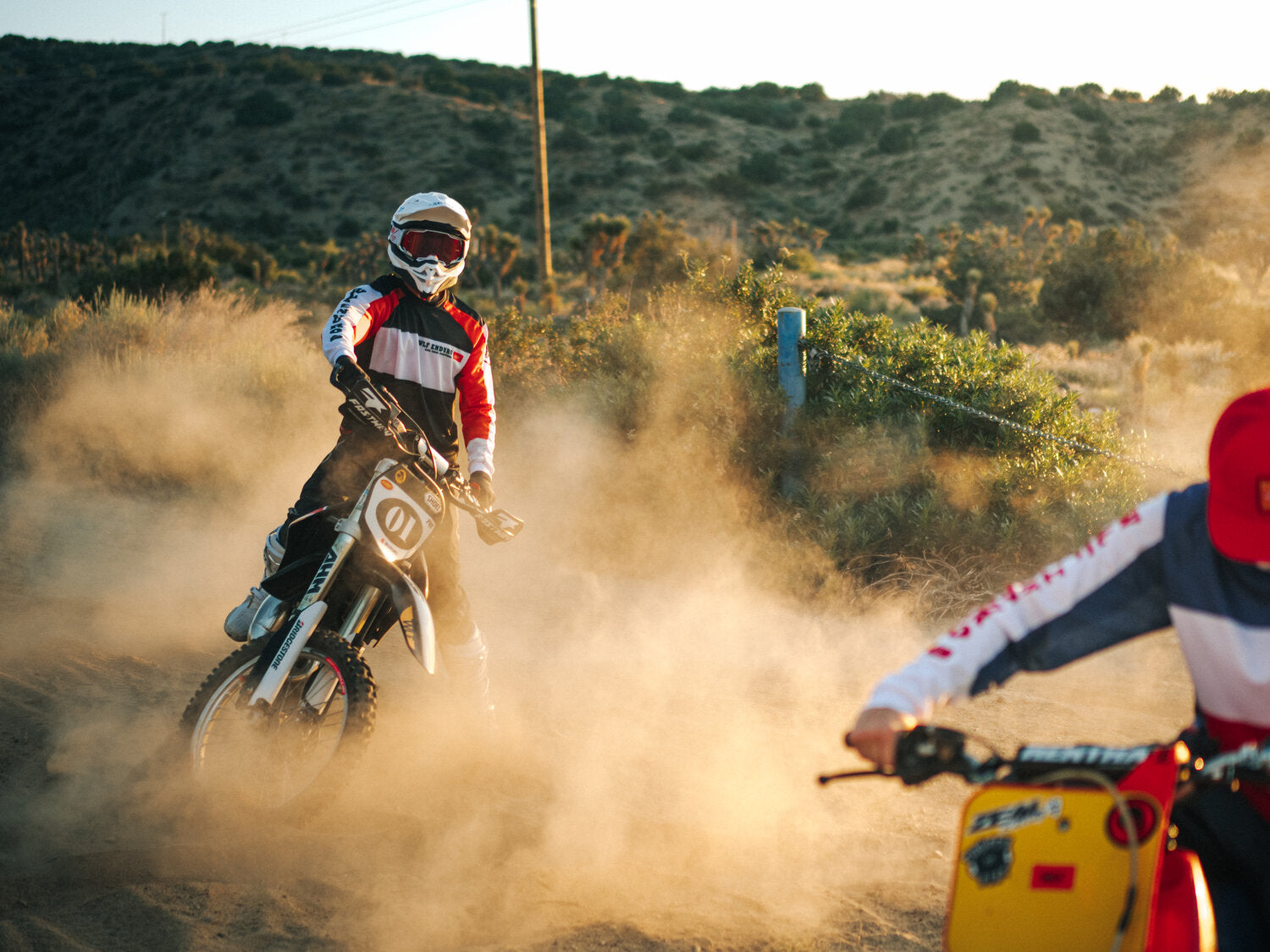 For this rebuild we still didn't want to break the bank. We want people to know that you can still get a killer build done and have a ripping trail tool within a blue collar budget. Also still wanted to feel comfortable loaning the bike out to others and not worrying about damaging shiny expensive parts and keeping the good times rolling. The essentials were on our minds.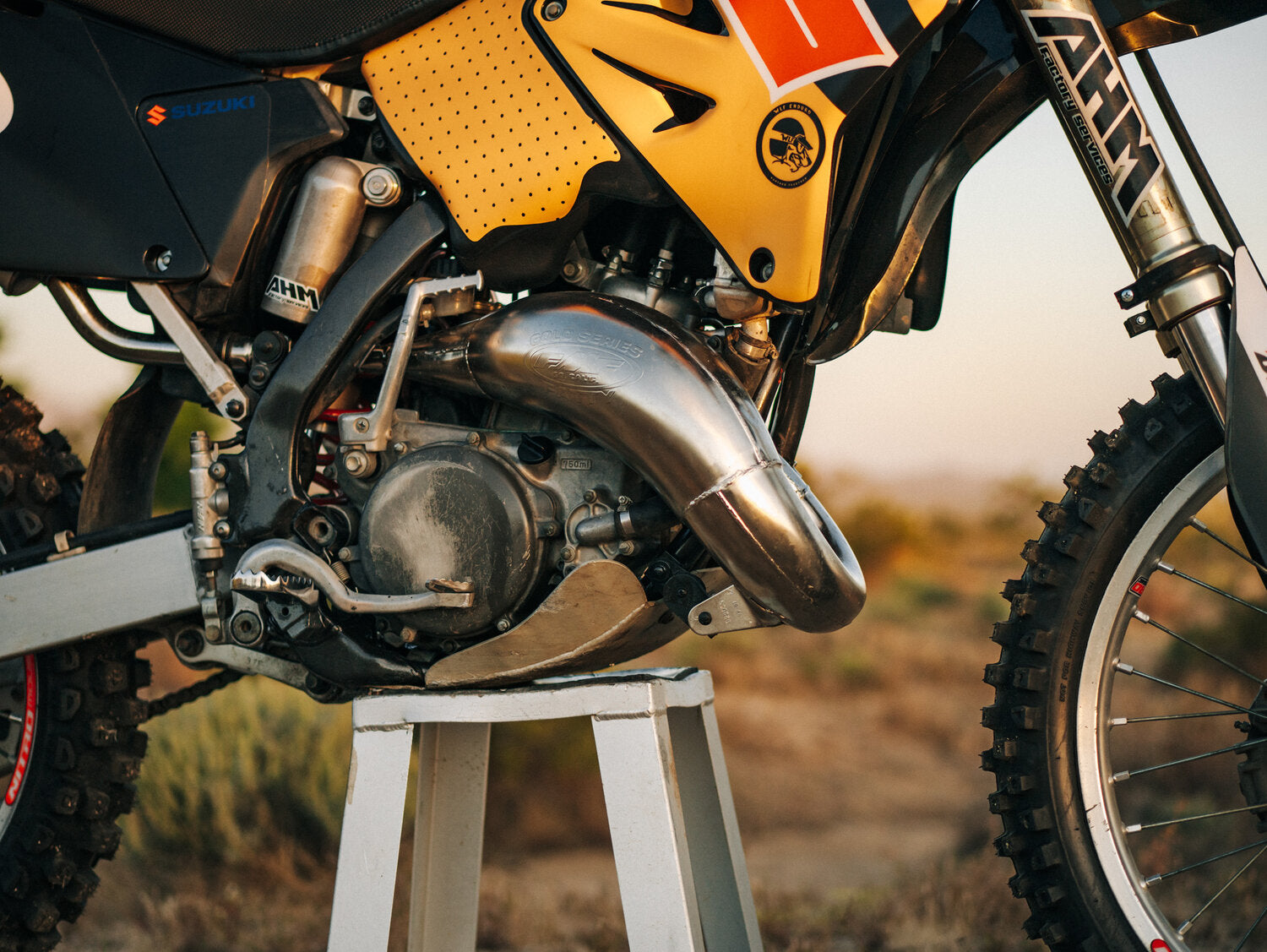 MOTOR / SUSPENSION
A full engine rebuild top and bottom end, a new clutch, the rear shock rebuild because it had never been serviced. We went to Brandon and boys at AHM Factory Services for the engine and shock knowing that they are the experts and it was going to be done right.
ESSENTIAL PARTS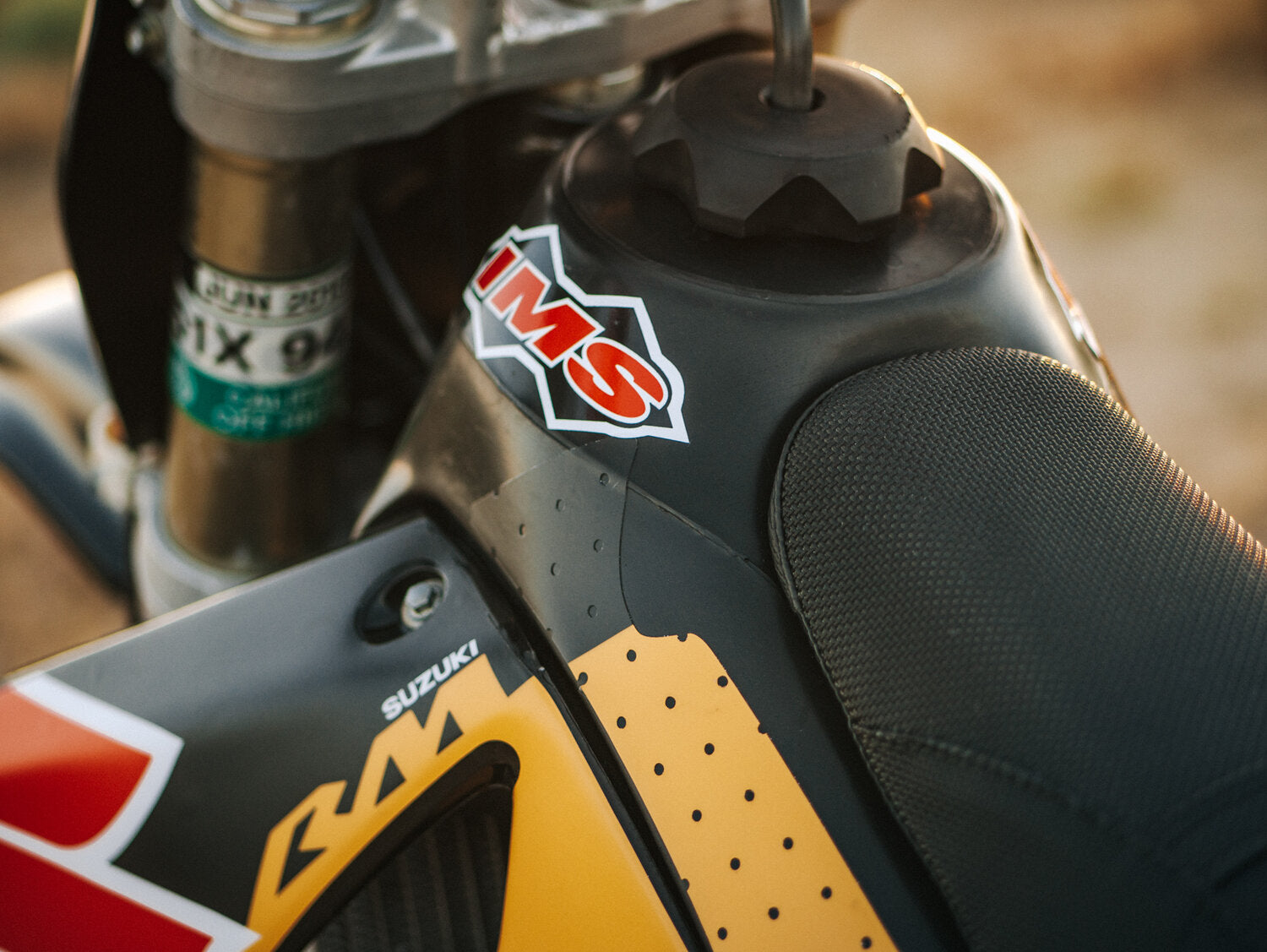 TANK / PEGS
While AHM was doing their thing we started to make a list of what was essential to build a great bike. First thing that came to mind was a larger gas tank to stretch the miles the little 125 can handle. When you connect up with IMS you better believe you are going to go FURTHER TOGETHER, literally. They had the perfect 3.4 gallon option that still keeps the bike feeling nimble and small and will still add over ⅓ the mileage of the stock tank.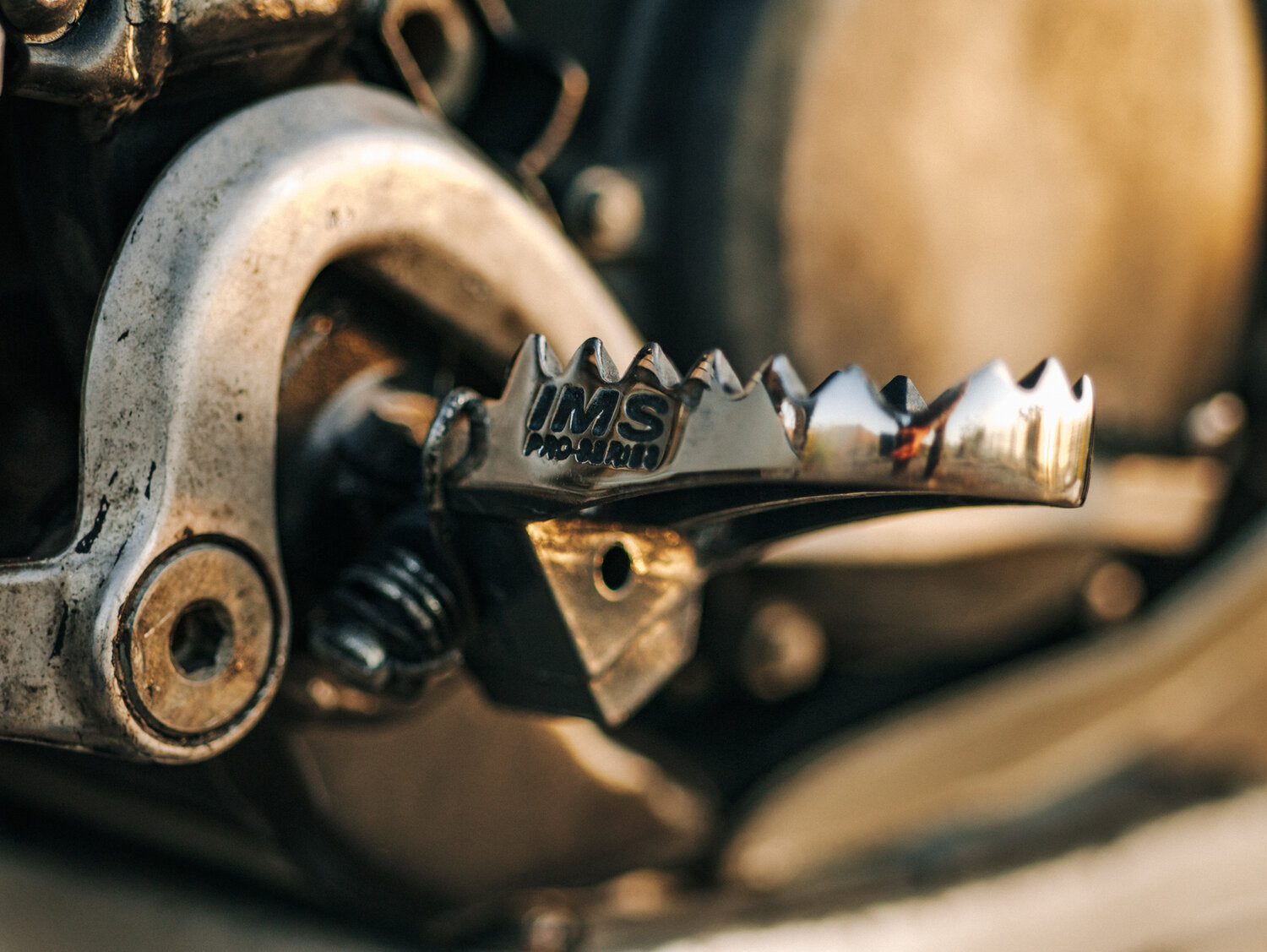 We also replaced the old foot pegs with the IMS Pro Series to give the bike a more modern feel and control for any rider. Standing on these things for long distances your body can literally feel the difference at the end of the day.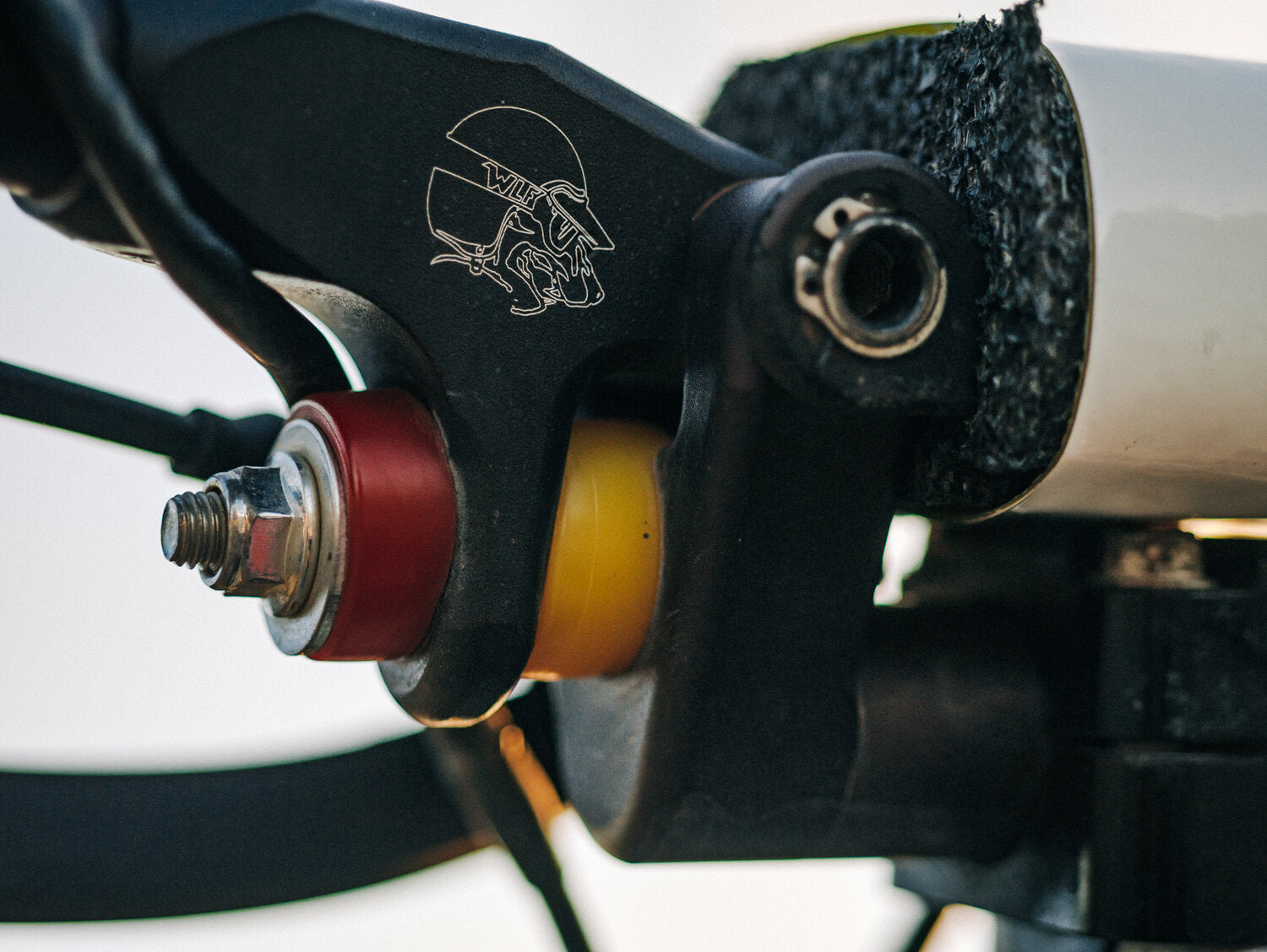 RUBBER / BIB INSERTS
In a world where everyone talks about "staying connected" we totally agree. Oh they mean social media or wifi?? W.E. think of rubber. Bridgestone to be exact. Staying connected to the ground in all of the different terrains is the name of the game. So the RM got laced up with some Battlecross X40. Pulled out the tire irons and went to work filling them up with Nitro-Mousse to avoid flats. This combo will keep the bike on the trail longer without having to worry about breaking down on trail and pulling tubes out...peace of mind = priceless.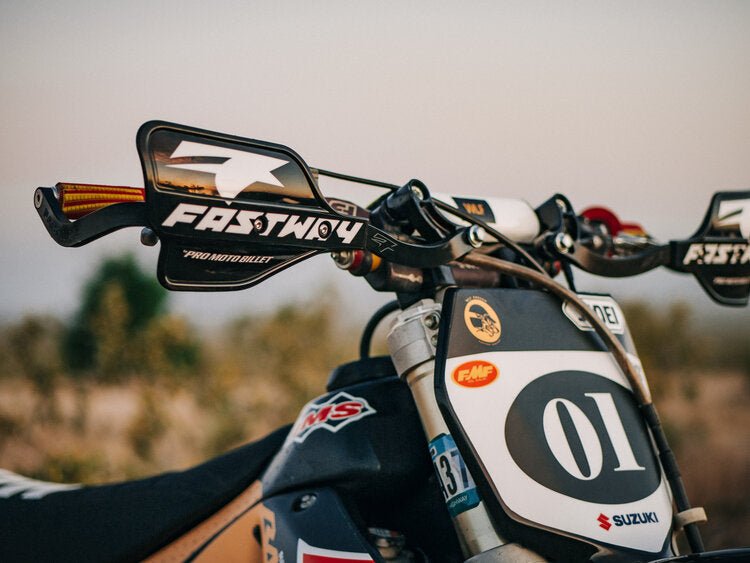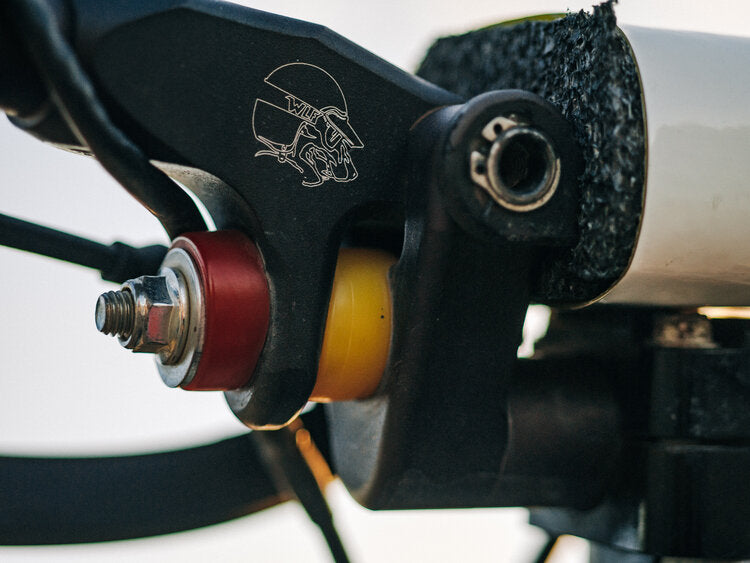 BARS / COCKPIT / PROTECTION
There is something about sitting in the cockpit of the RM that makes your mind flash back in time. You feel like the bikes taking you on a journey thru time and space and its this energy that makes these little machines such a joy to be around. It was a perfect fit and sit but just wanted to update the ergonomics a bit. Anyone over the age of 25 that has said things like "my PT or chiro says I need to stretch more" OR "I heard yoga will keep you rolling for the next 20 years" try some FASST company Flexx bars and call us in the morning. There was a set floating around and became a perfect hand me down add on to the smoker. Rounded out the entirety of the build with some solid protection on Pro Moto Billet Hand Guards. The perfect touch with bark busters that protect knuckles and levers when the going gets tough. No matter if it's a high or low rate of speed tumble, this bad boy is covered.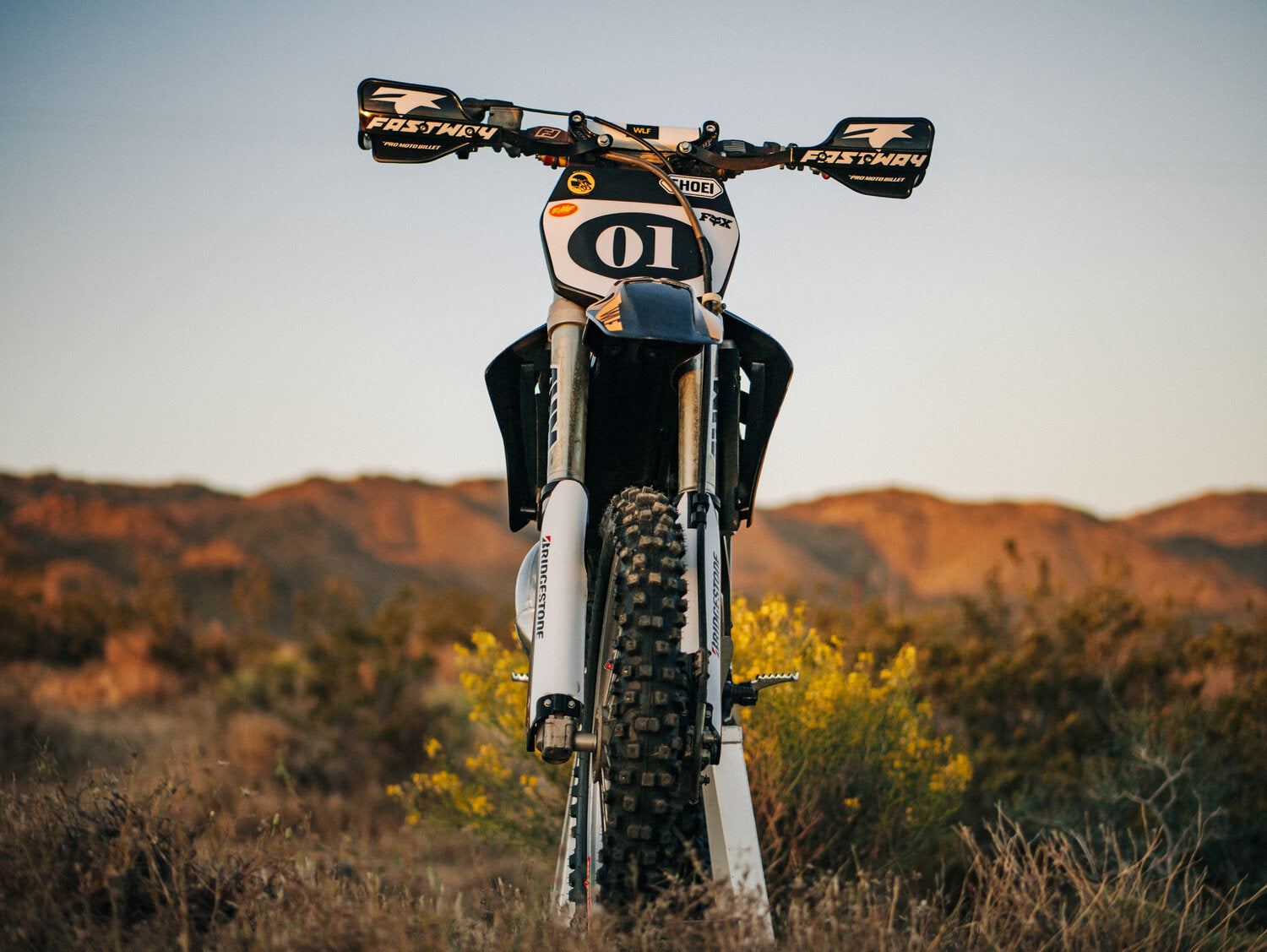 It was a process. It was a grind. It was never intended to be a show bike but came out beautiful nonetheless. This is a hard hitting, pipe screaming, trail slayer, it's light, tight, nimble and ready to rip. RM125's HERE. There. Everywhere will be jealous and want to be cleaned up. If ya got one at home show it a pic of this beauty and know that it's 2-smoke heart beat will skip a few RPM's. 
This 01' RM is Alive and Well. Time to go shred. 
PEACE LOVE AND 2-STROKE SMOKE!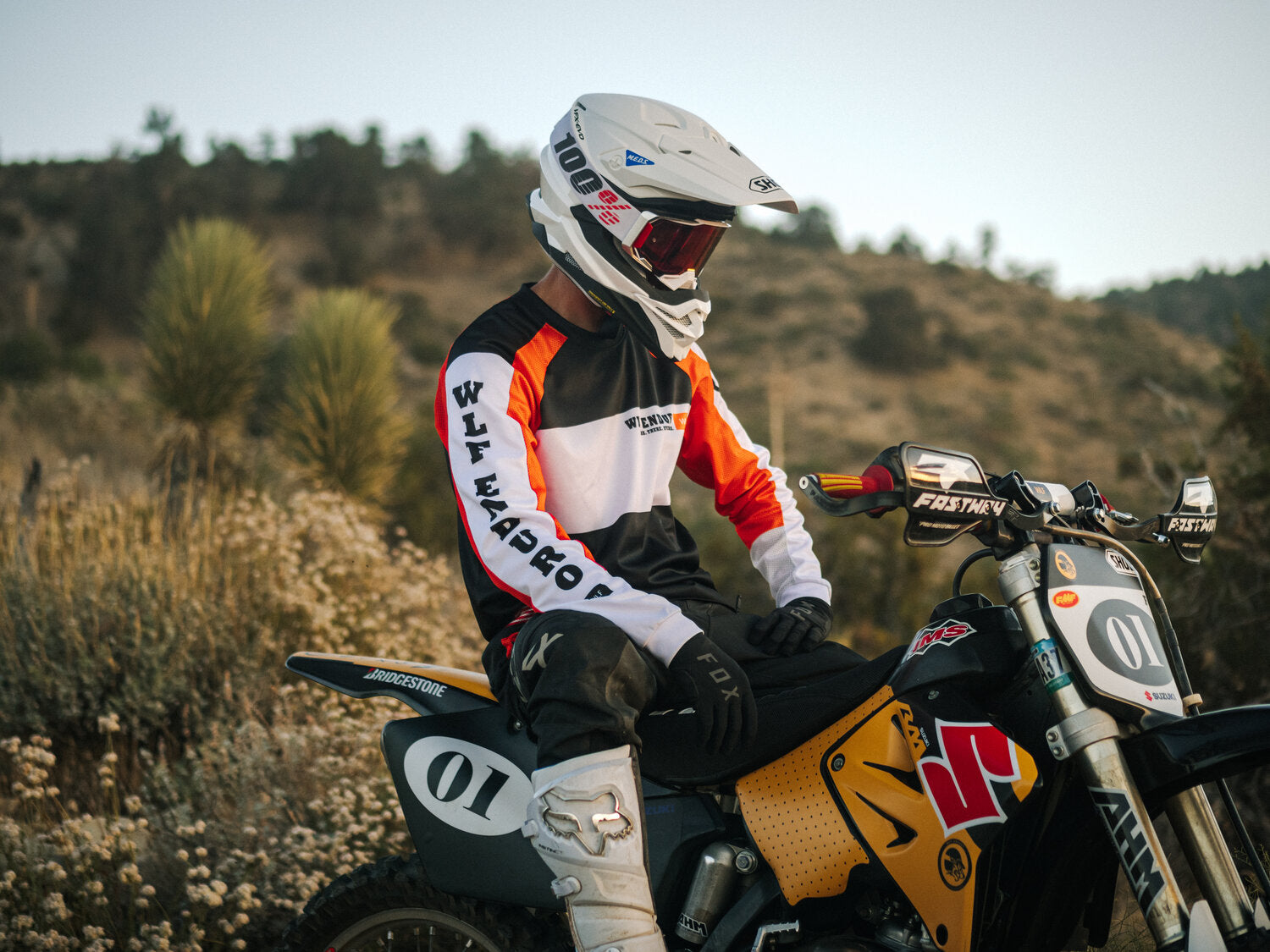 WLFIRST IMPRESSIONS-
Jake //@js_smitty - The bike rips and feels new. It's like a mountain bike with a motor. I can't wait to take it on a long ride and see how many miles I can get on the IMS 3.4 gallon tank. 
Chaz // @chazr - The quickest way to make an old bike feel new, give it the gift that keeps on giving each mile ridden. The kind that your tushy will appreciate on those hard enduros. Seat Concepts custom soft +grip is the perfect combo. 
Mike // @mfrank67 - The velcro-like grip of the Bridgestone BattleCross X40's combined with the bullet proof durability of the Nitro Mousse inserts make this ringer feel like it's on rails.
Greg // @dusted_350 - My first impression was how the Fasst Company Flex Bars gave this old timer a modern feel at the controls. Not to mention the extra flex is nice on the wrists when you are bouncing through rocks. 
Culver // @culver - I used this bike when I wasn't worried about breaking it because it was already pretty blasted and I couldn't do more damage! ha ...The biggest thing I noticed was the way the FMF pipe / silencer combo with an AHM fresh motor opened up and screamed together. It literally felt like it doubled the pony power from before its moto makeover. 
Luke // @tarakadak - "I always watched JS rip around on the little pea-shooter of a bike. Figured there's no way that bike produced enough power… After many musical-bike trade off's I changed my tune about that 125 2-smoke. The power is definitely there once you get that throttle all wound up! Fully different experience rip'n around that little bike. Love it! AHM nailed it on tuning that puppy. I'll be on Craigslist looking for my own now… haha"