#WLFieldGuide : Scott Burtness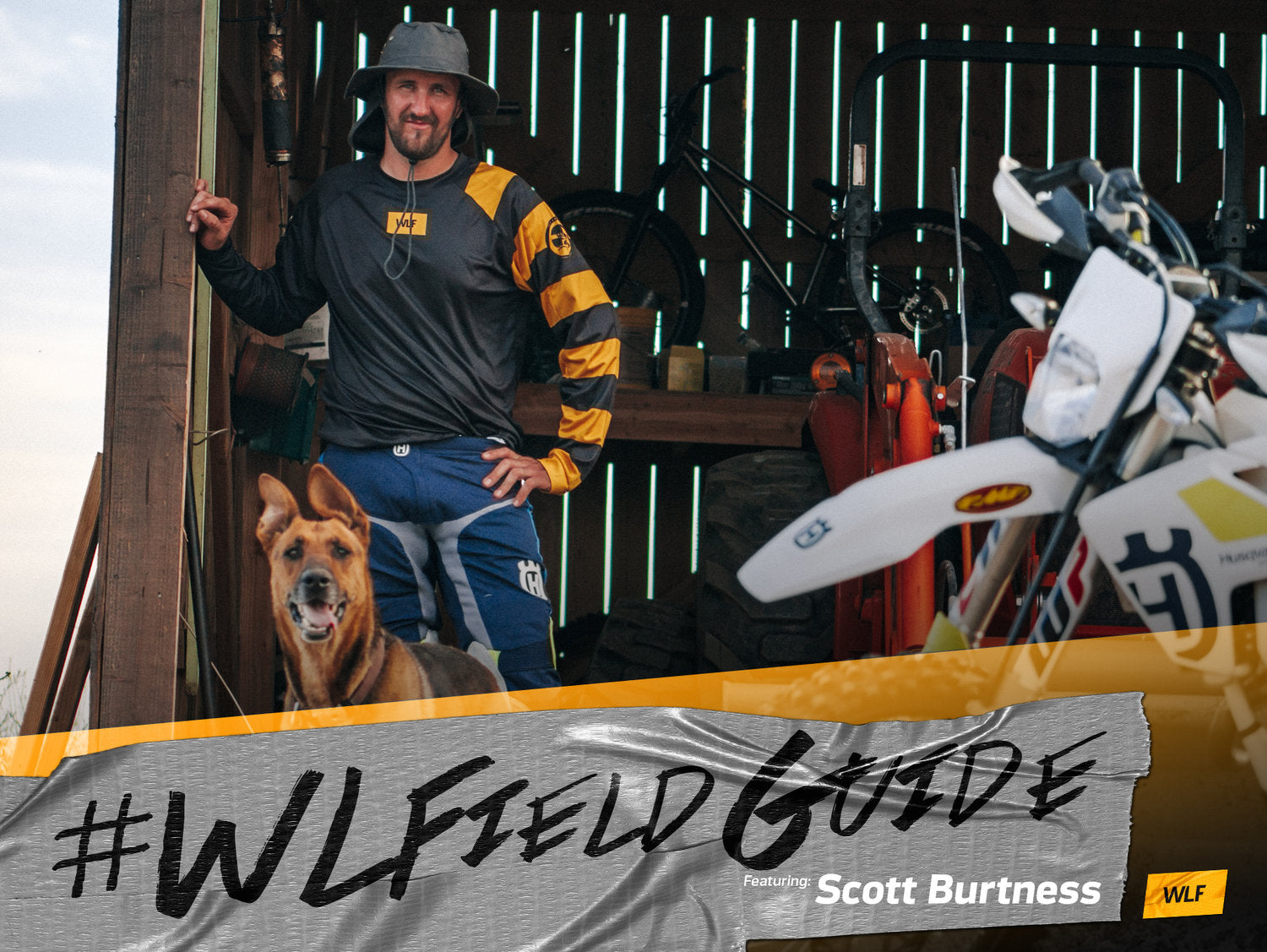 ARTICLE 001:
Cracked Case Fix
FIELD GUIDE: SCOTT BURTNESS
Occupation: Jack of all trades master of none. Event specialist for Husqvarna Motorcycles USA
RIDING BACKGROUND:
I remember watching my first dirt bike race when I was 6 years old and at that point all I wanted was a dirt bike, finally at the age of 10 years old my dad got me my first bike the moment I rode it I knew this was for me! I absolutely love the freedom that motorcycles give me. The freedom to explore wherever you want but also the freedom to forget about the world and whatever issue you might be going through at that moment the world STOPs and it is pure focus on what is in front of you…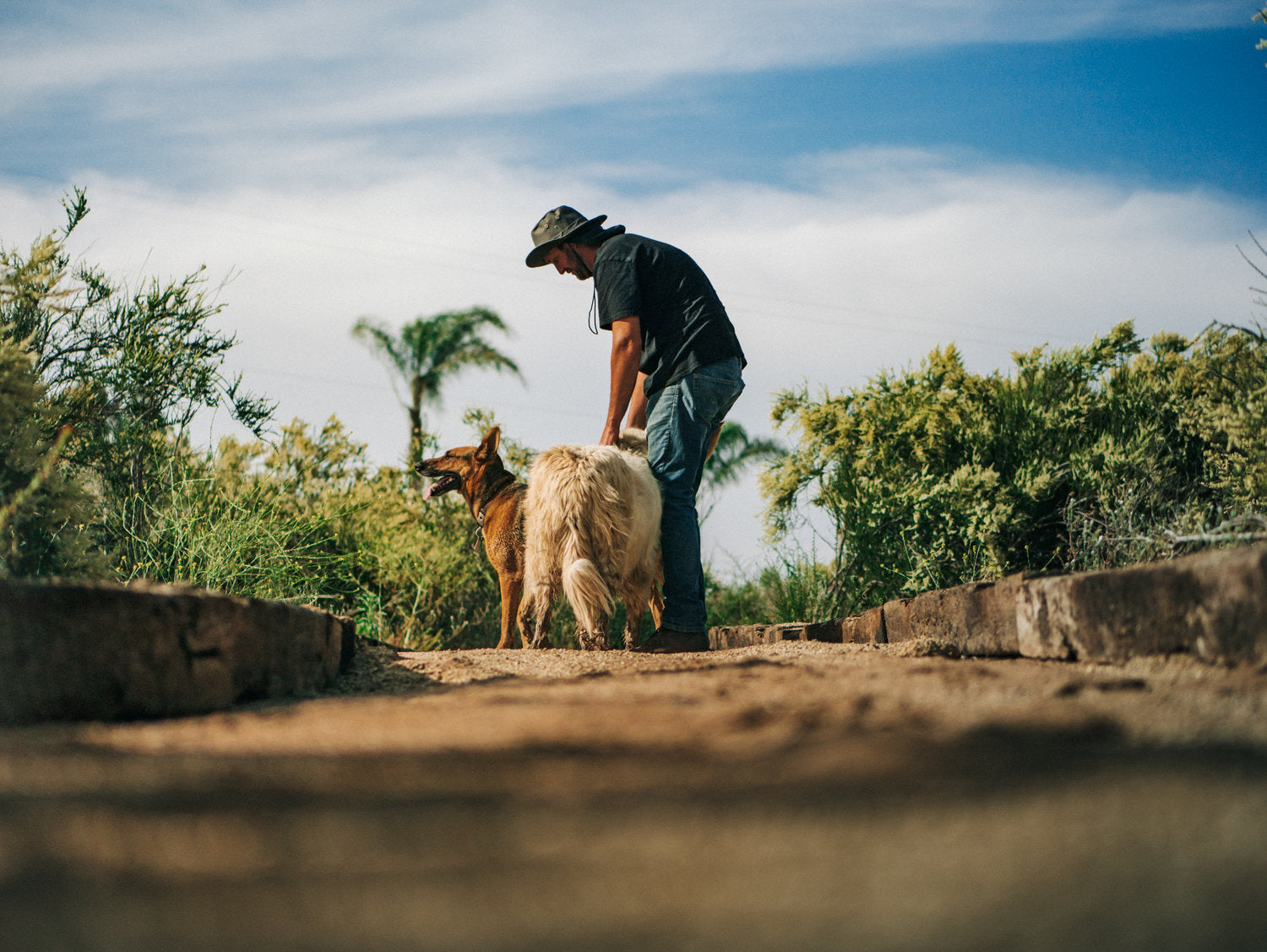 RIDE OUT:
The boys and I rode out from the house. The plan was to go on a 30 or so miles loop, about half way through the ride we got into some really tight single track. I didn't see that there was a branch sticking half way out on the trail. I hit it with my left shoulder and it shot me off the trail to the right, the bike fell onto a rock on the clutch side and broke the cover. The boys and I pushed the bike off the trail to a safe area, we leaned the bike onto the left side so no oil would leak out of the damaged clutch cover. We then evaluated the cover to see how we were going to get it fixed with what we had on us?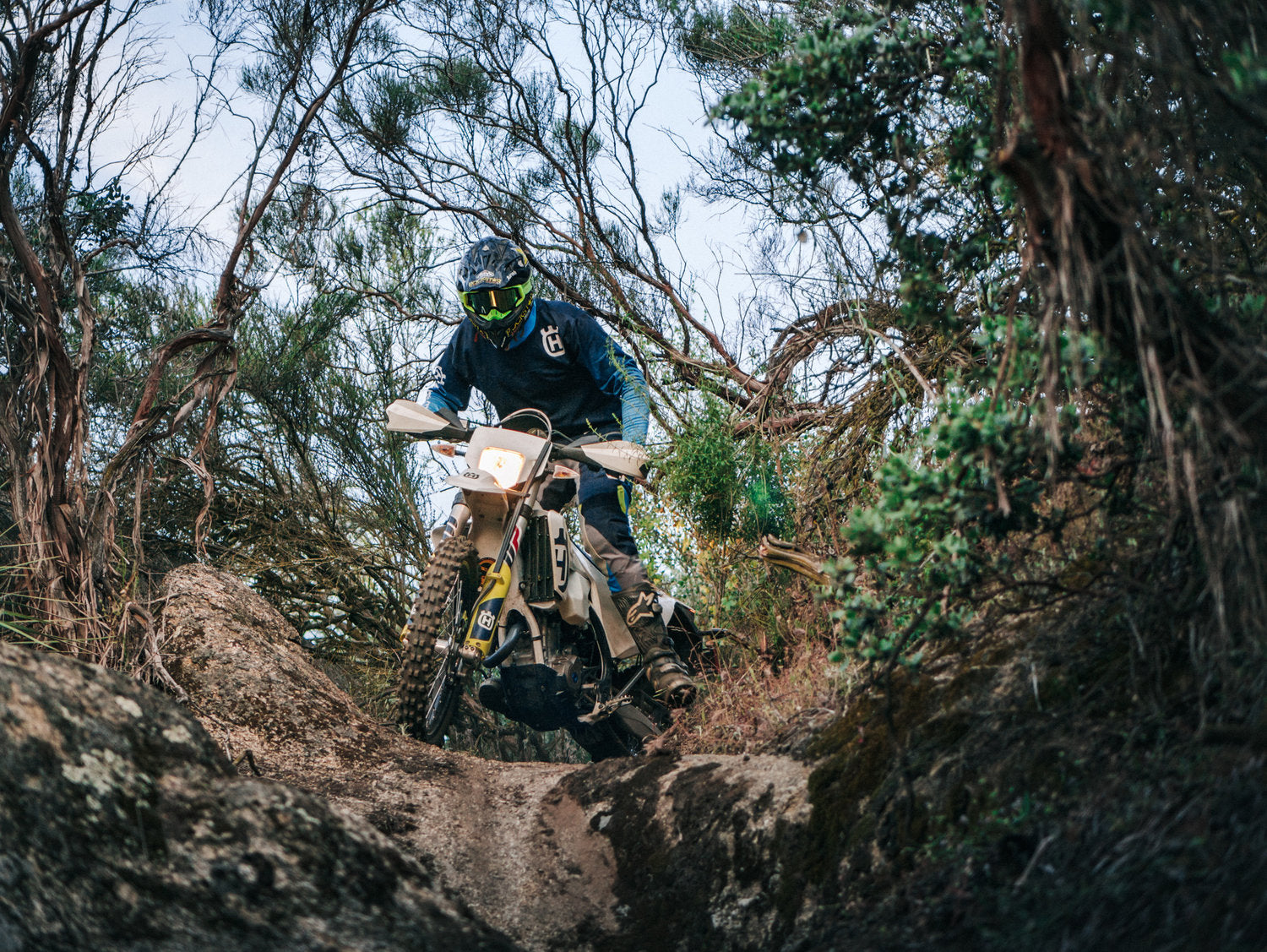 I had a 8mm socket with a ratchet and needle nose pliers and Jake had the J.B weld and we were able to utilize a natural tool that man has been using since the beginning and that would be a (ROCK) don't judge us haha. Luckily we were able to patch it up and keep riding!
The Process:
Here is the step by step process of how we temporarily fix the clutch cover to keep us having fun on the trail. The process may vary depending on the level of damage. Make sure you fully inspect your bike before and after the fix to prevent any further damage.
1. Remove brake pedal spring
With needle nose pliers. Make sure to hold it tight so it doesn't fly off.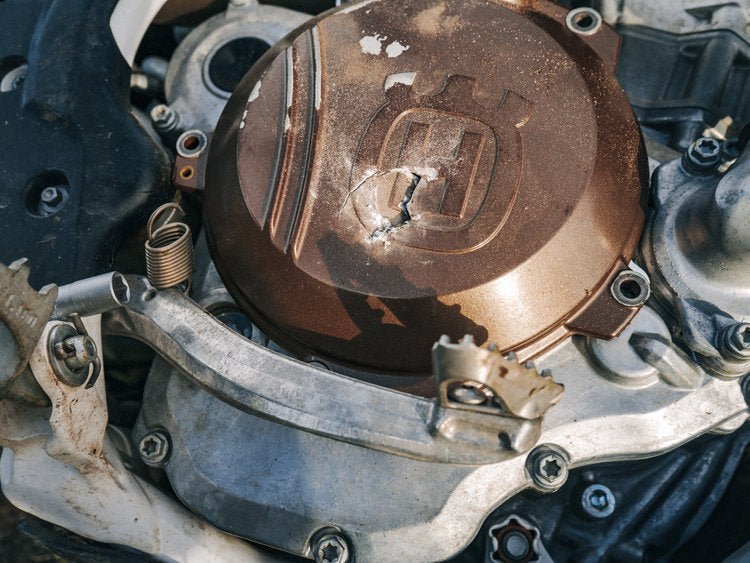 2. Push rear brake caliper in, doing this will allow you to access the bottom bolt on the clutch cover.
Using both hands push down firmly directly on the outside of the brake caliper which will release tension.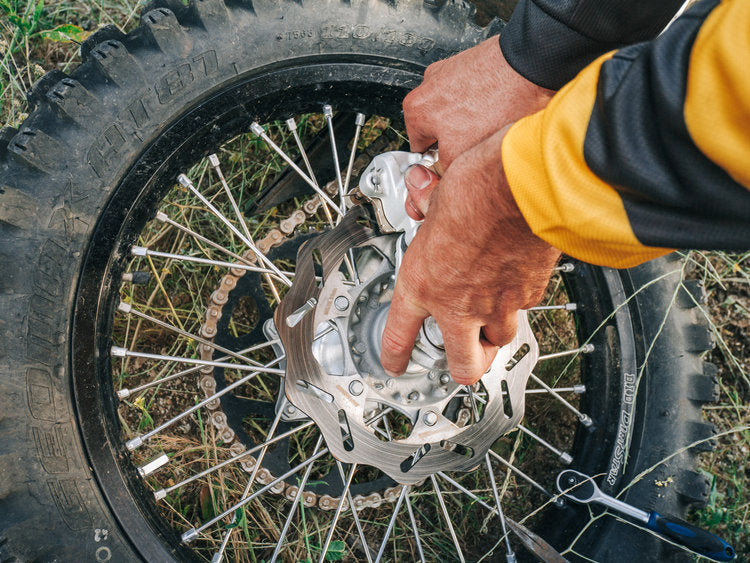 3. Take your 8mm socket with ratchet and remove the bolts holding the clutch cover on.
Keep an eye on the order and size of bolts, and make sure they are returned in the proper order. This will definitely varied depending on brand and year of your machine.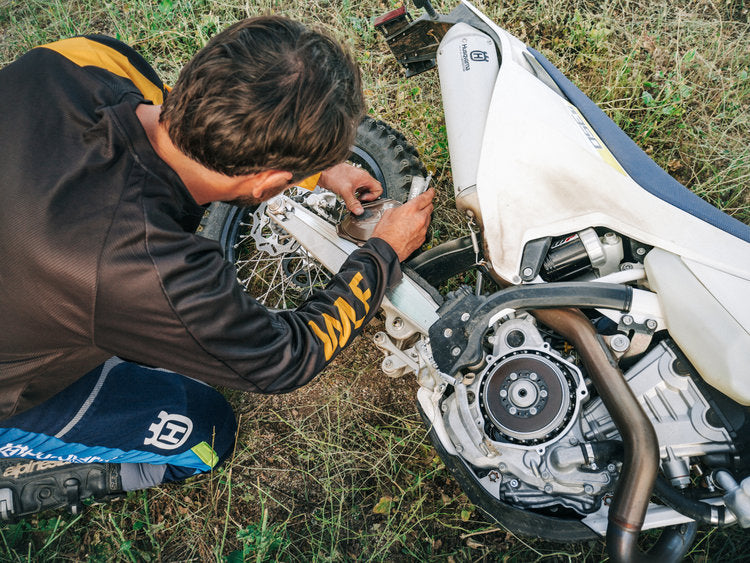 4.Use a flat object to hammer the broken part of the cover out.
Take your time with this process to make sure you don't create more damage.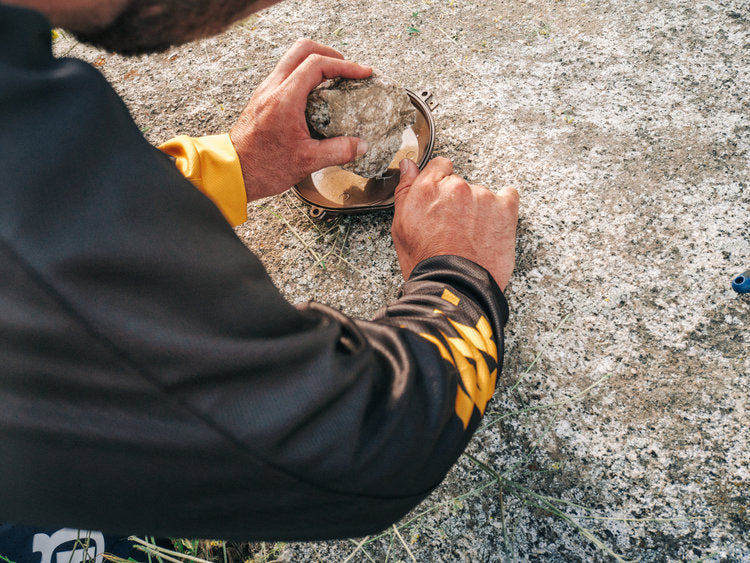 5. Wipe cover off with a rag or in our case with my jersey.
Make sure all debris is removed and no metal shaving will break loose and enter vital motor components.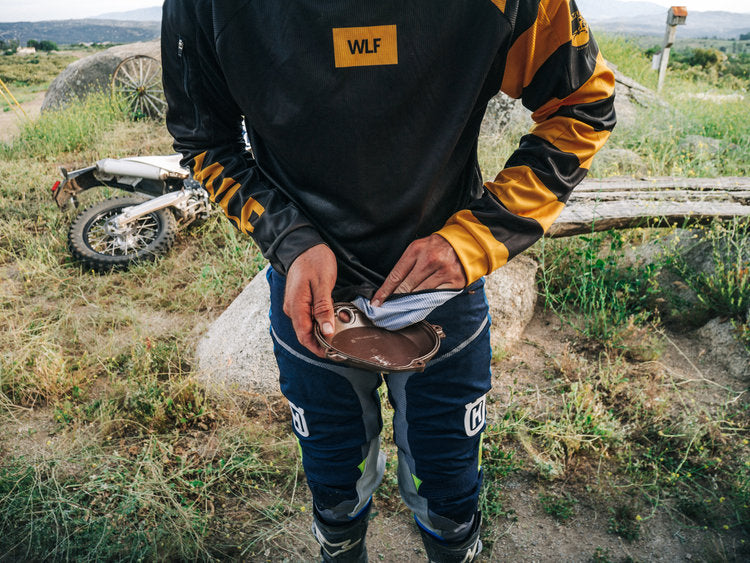 6. Apply the J.B weld to the broken area of the cover, allow to dry before you put back on.
Follow instructions on your J.B. weld container and mix properly. If this is going to be a longer fix for an extended adventure you can add JB weld to the inside of the case as well. Just make sure it is fully dried and that it is flush enough to clear all internal engine components.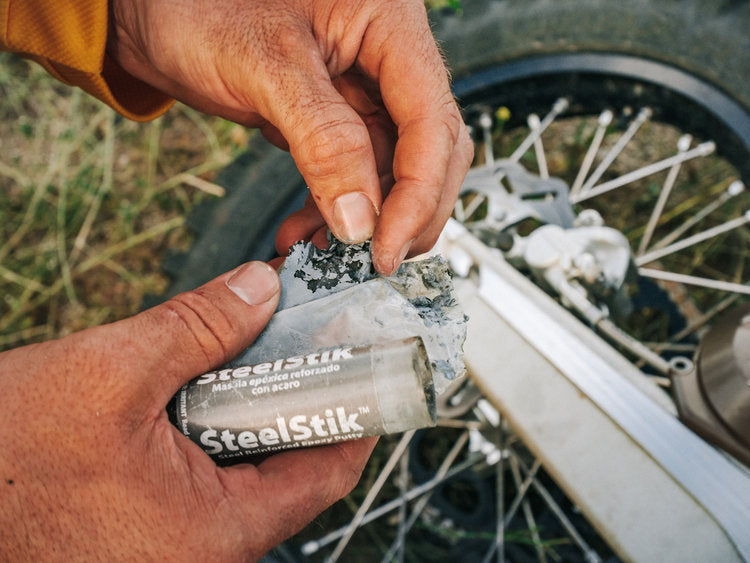 7. Put the cover on in reverse order of how you took it off.
Tighten the bolts in a star pattern to create the optimum seal.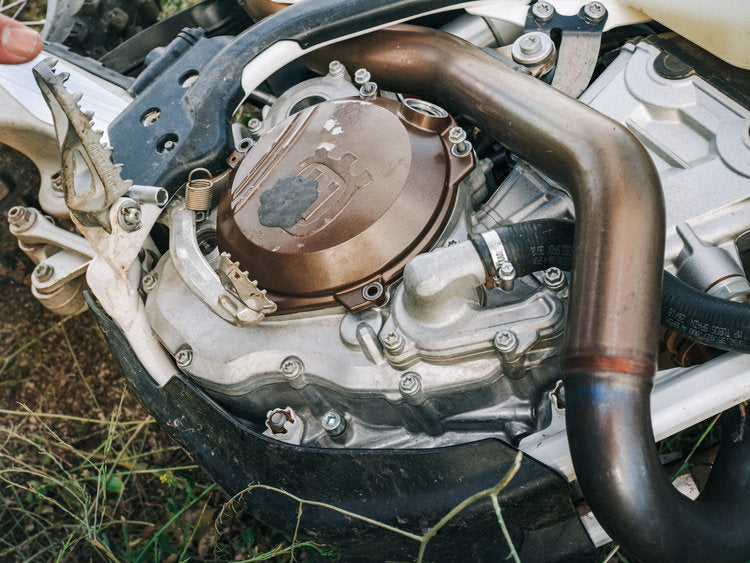 8. Pump rear brake before you get back on the bike.
This will return full pressure to the brake caliper and now you are ready to ride.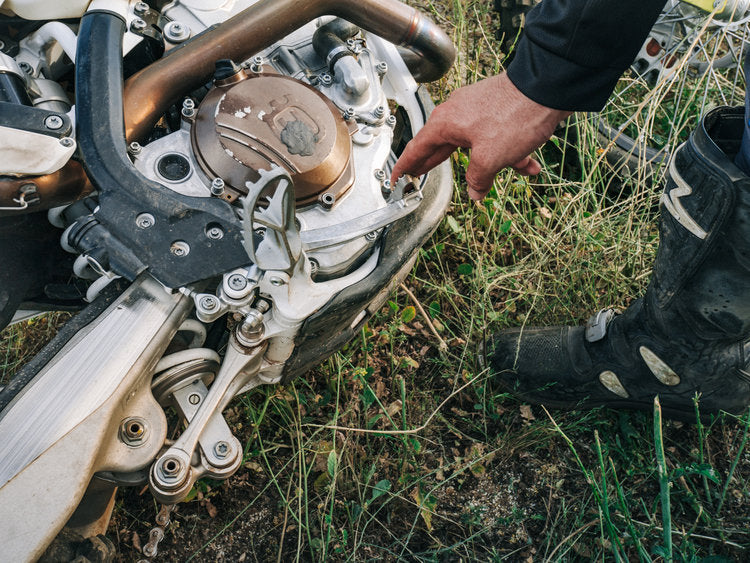 FIELD GUIDE HOME BASE:
SCOTT BURTNESS - MURRIETA CA
I bought my property a few years back and from the beginning I wanted it to be a place I can ride dirt bikes with my friends/family and be able to ride out the front gate and go as far as we want! I also wanted a place I could be self sustainable in every way I can but also to have a space people can come to and enjoy nature and all she has to offer! I have been telling the WLF boys about my place for a while now.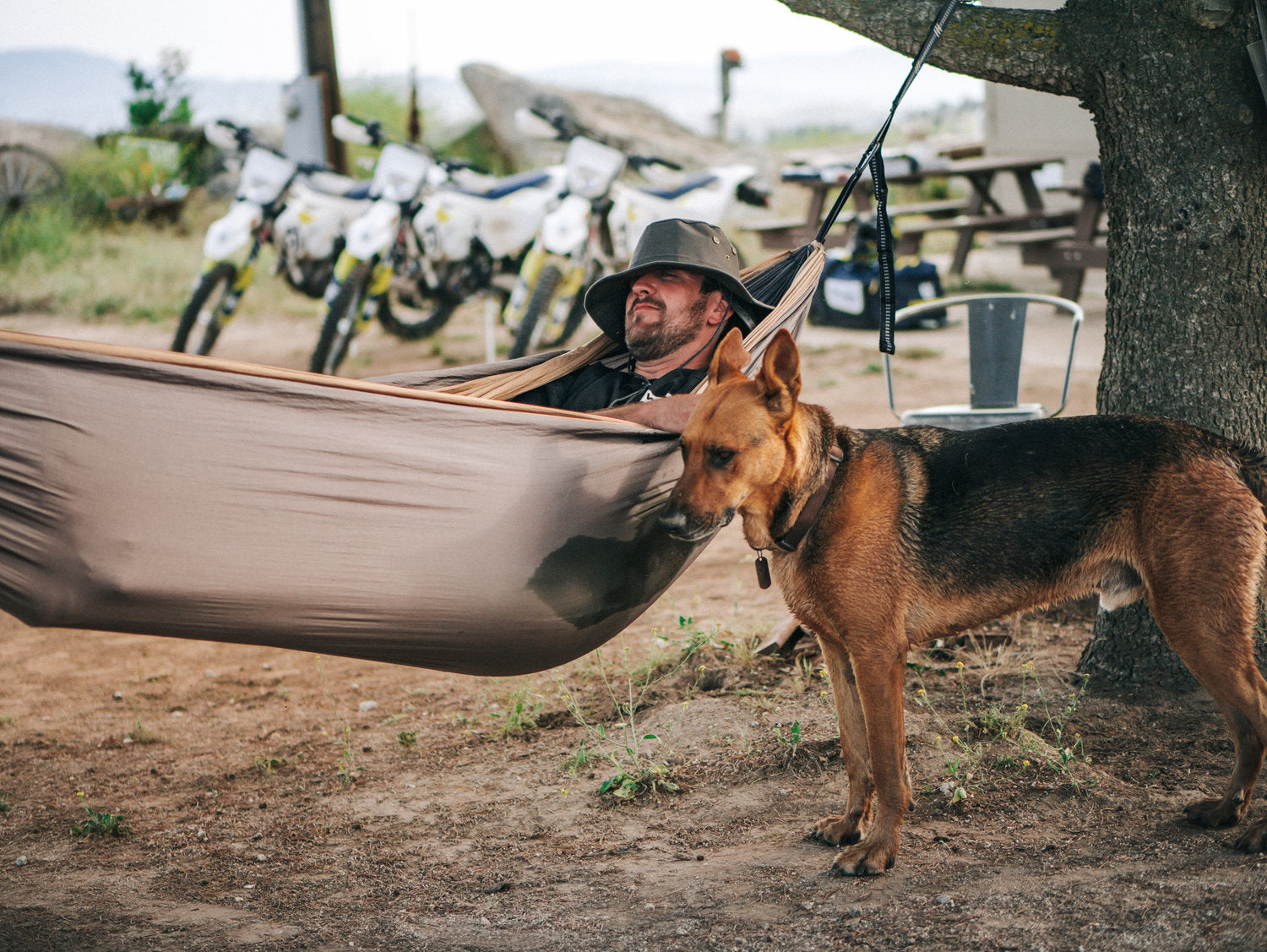 So I finally got some of the founders out here and I was able show them the stuff I have been working on and they also got to meet the other pack that I roll with, that would be my 4 dogs, they are all rescues, I am definitely a firm believer in going that route rather than buying and moving forward into the future, Any other animals that comes to the property will be recused animals! right now on the property I have over a dozen different fruit trees, I also planted different verities of berries, I also have some amazing native plants here as well, I have a few manzanita trees which are extremely old but also very unique, that is definitely what I envision for the property is to be unique!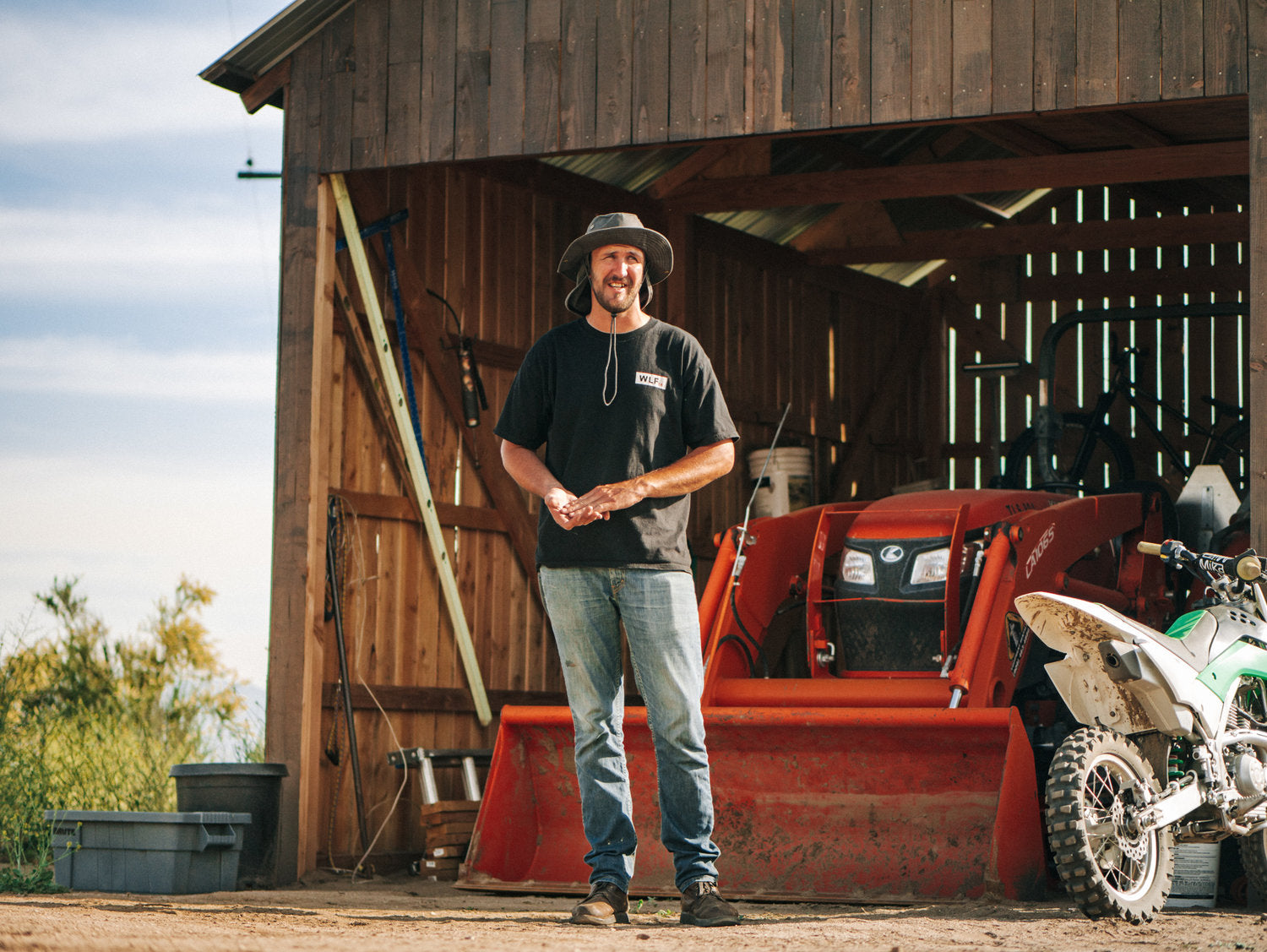 WHAT DOES WLF MEAN TO ME?
"Honestly, the pack is family to me, it's a bunch of people not all with the same mindset but all with a common interest for our love of riding our dirt bikes, it does not matter if you have been riding 20 year or 6 months we all finish the ride together."— SCOTT BURTNESS