[WLF] PRO-Files: Ed Luke - 03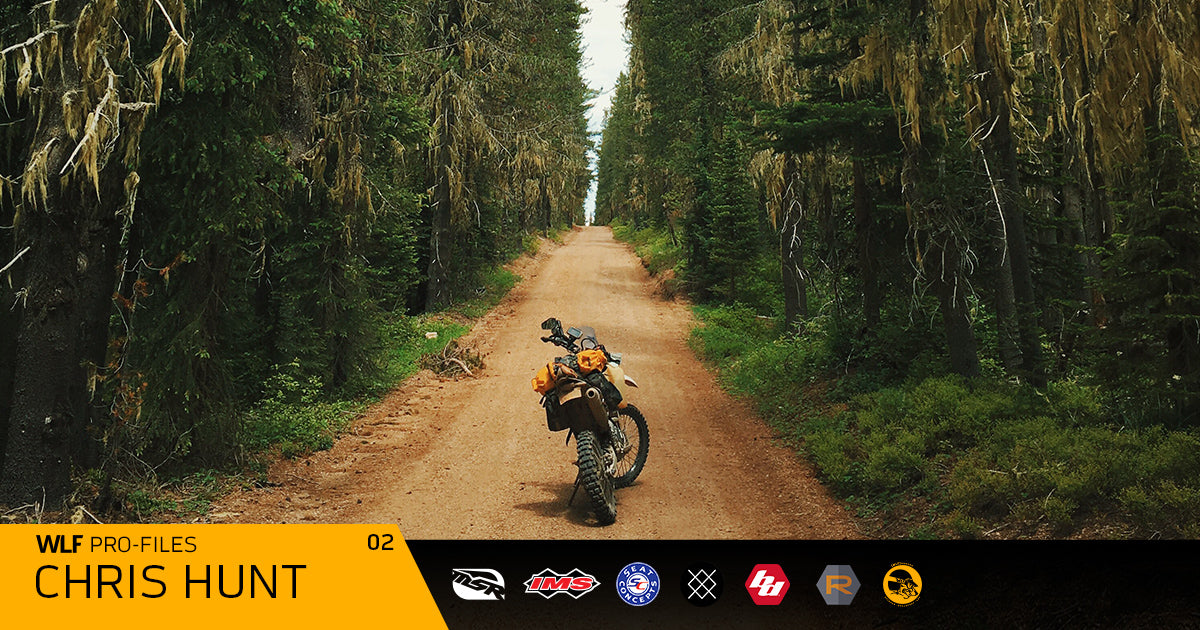 RIDER: ED LUKE
RESIDENCE: RIVERSIDE, CALIFORNIA
GARAGE: HONDA CR 250 // CRF 450X // KTM 990 // HONDA GOLDWING
RIDING TYPE: OFF-ROAD - DUALSPORT - ENDURO - SPORT ADV TOURING
ED LUKE // RIDING HISTORY: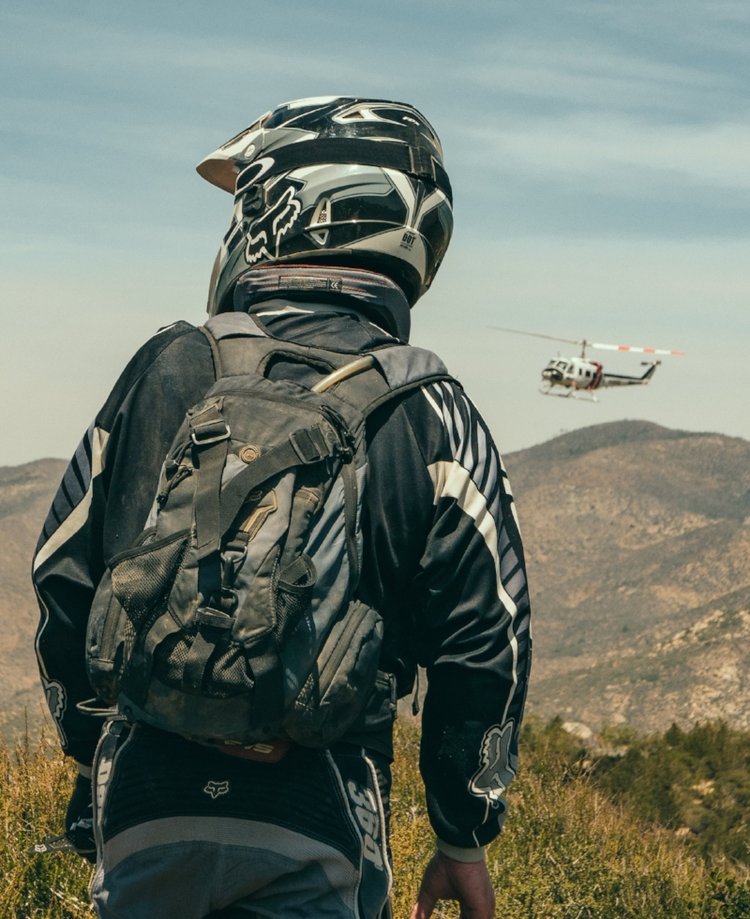 It was early 1970, several of us neighborhood kids gathered around a 19" console TV to watch the man himself, "Evil Knievel", attempt to jump 13 trucks on his motorcycle. Even though he didn't make the landing, it didn't stop us from going outside, leaning a plank of wood on top of a few cement cinder blocks, and jumping steel trash cans on our bicycles. If I remember, I was able to clear three. This is a far cry from riding motorcycles, but to a bunch of kids it was as close as we were going to get.

Being the son of an Air Force officer we moved around the country a lot.  It wasn't until I was 14 that I got my first motorcycle - a Honda Trail 70.  I know this is not a true MX bike, however to my older brother and I, it sure was. We rode the snot out of that bike! Our travels continued taking my family to another part of the country and we had to sell the bike. This was one of the hardest things having to let go as a kid.
The icy blue waters of Emerald Lake, Yoho National Park, Canada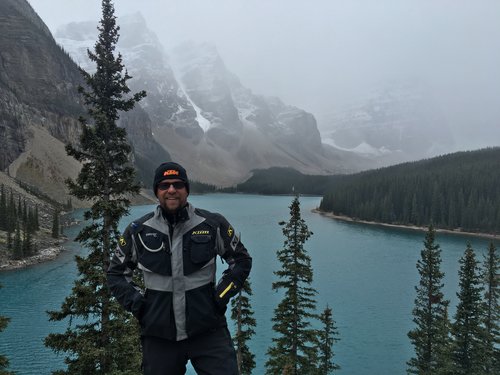 Though moving around a lot and attending 8 different schools in a 12 year period was difficult growing up, it did teach me several life skills as well as exposing me to different parts of the world.  For this I am very grateful. One of the many things my parents taught me was the love and appreciation for the "outdoors" - so much that I wanted to be a Forest Ranger in Northern Idaho when I grew up.  Well, that dream didn't come true and I settled down in Southern California.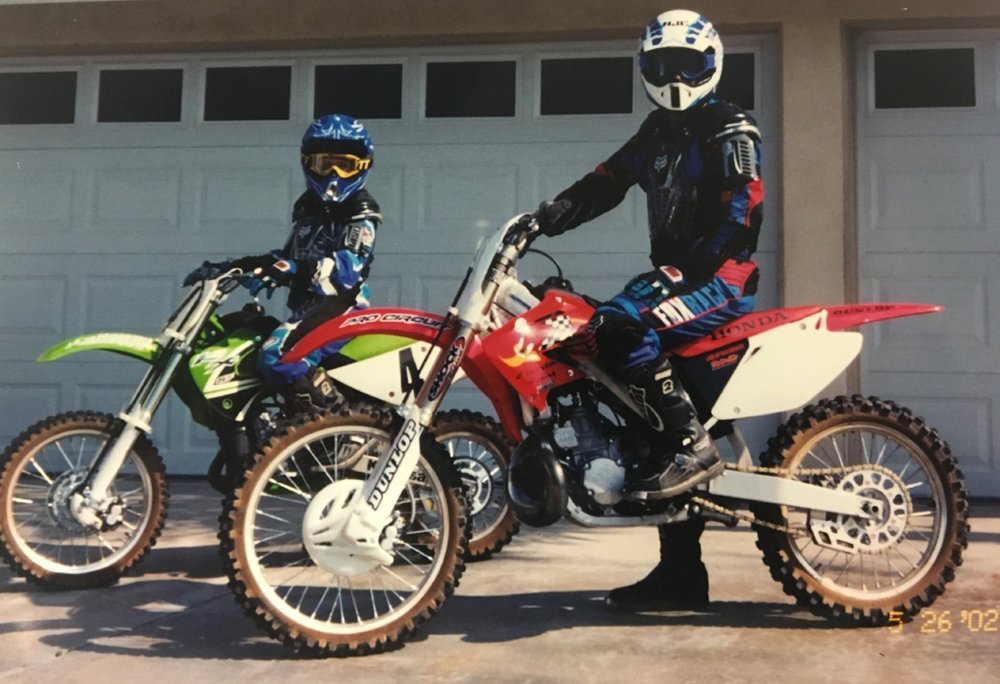 After a  few years I purchased a used Suzuki 250R quad racer. Living close to the desert and the sand dunes, this was a magnet for these types of toys. I spent several years riding this quad until my first major life change… marriage. With my new found love I put my other love of riding on hold while we enjoyed the life as newlyweds. It wasn't until several years later my 2nd & 3rd life changing experiences took place - the birth of our two boys.
I now had two new riding partners on little quads for several years.   It wasn't long until we all advanced to dirt bikes.  Riding was a family affair and a big part of our lives.
My wonderful family....Parker (left) My Amazing wife Leah and our son Paxton
This is where it gets real and personal.  On September 09, 2009, my 4th major life changing experience occurred.  I entered the hospital for routine testing one day and never left as I underwent an emergency triple bypass heart operation. Needless to say, this was totally unexpected and definitely a life changer for my family and I.
As I recovered, with a new outlook and a profound appreciation on life, I began the healing process, both mentally and physically. Honestly, I truly look at life with a different perspective now and I surely don't take it for granted!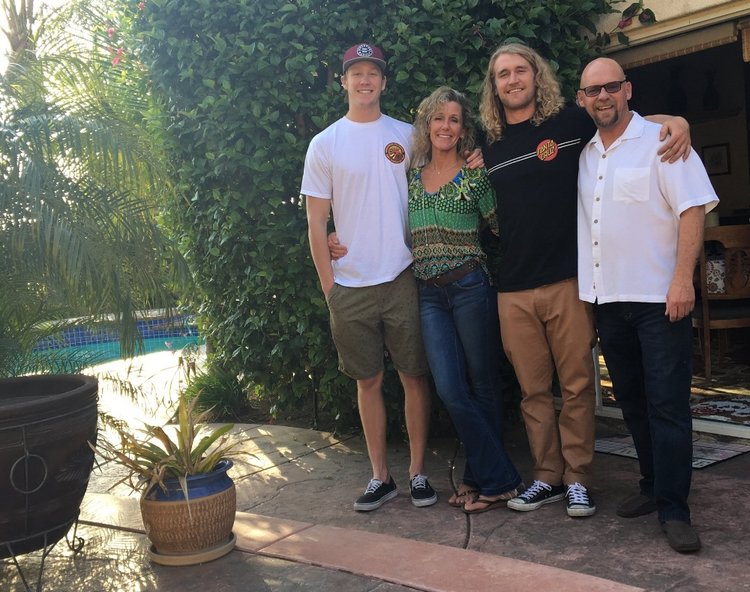 My wonderful family....Parker (left) My Amazing wife Leah and our son Paxton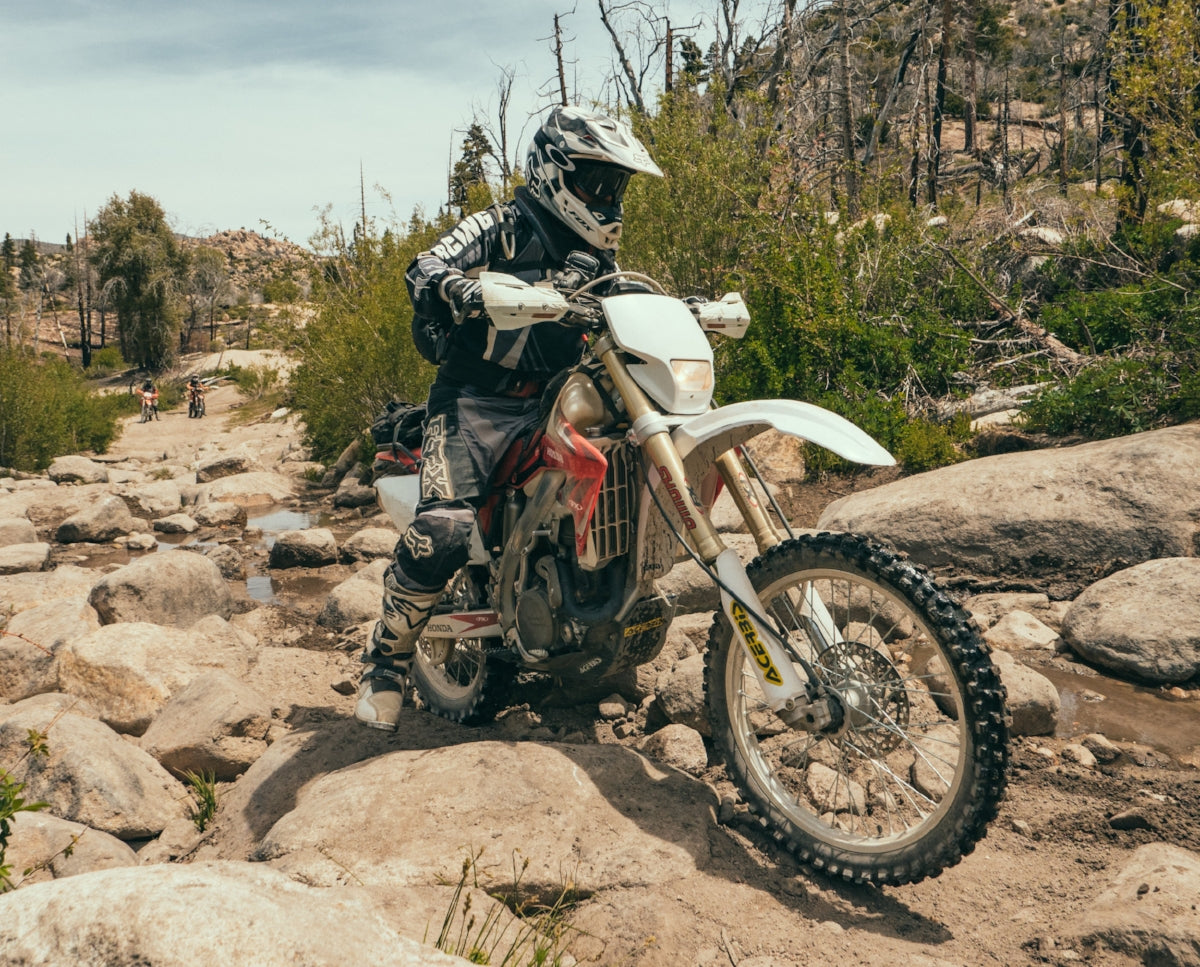 Crushing Rocks, mountains outside of Big Bear, California
As my sons left for college and I felt that "loss", I began riding more to fill the void. I have always enjoyed my Honda 450X dual sport and the places this bike has taken me, but I needed a little more.  So I got back on my 2005 CR250, took it to the track and started to enter several weekend races, and surprisingly enough I made the podium on several occasions in my class bracket.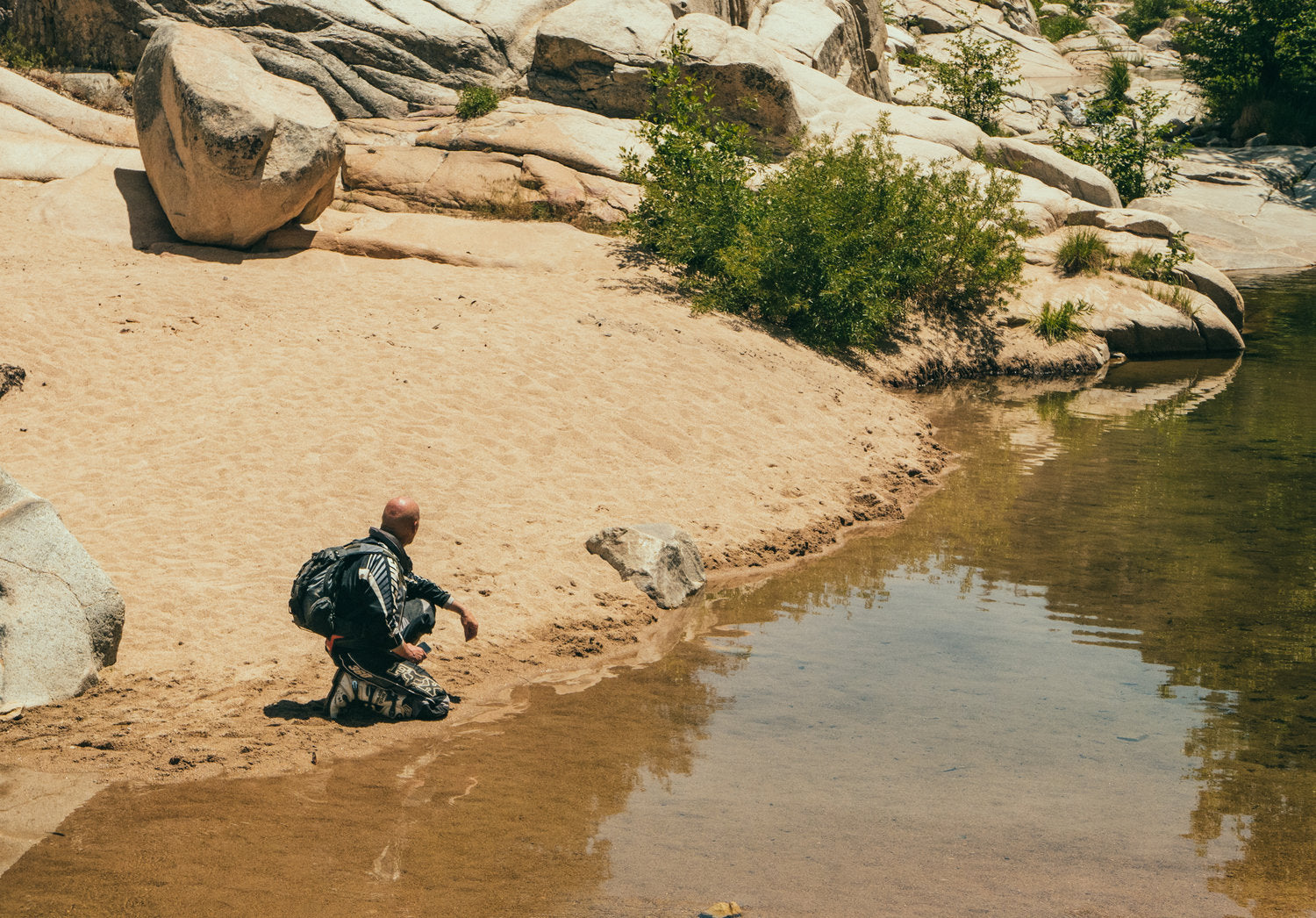 One of my favorite watering holes in our local mountains; T-6 crossing
What I found out about riding was that it gives me the peace and serenity I need away from the stressors of daily life. When I'm behind the handle bars it's just me and the bike and nothing else. I get to escape to a zone where no outside influences, distractions, concerns or issues can penetrate. It takes me to a place I feel most connected to -"The Great Outdoors".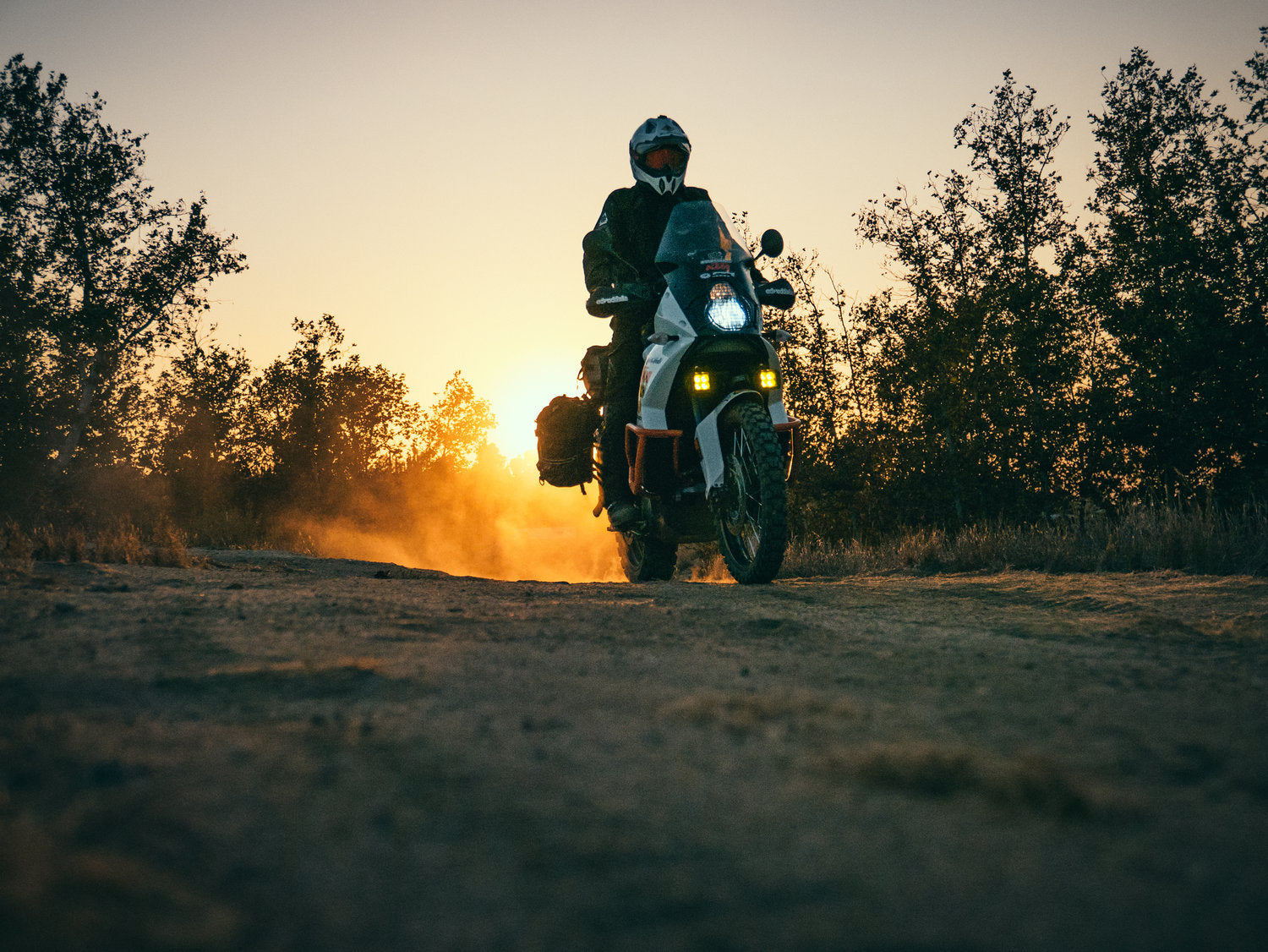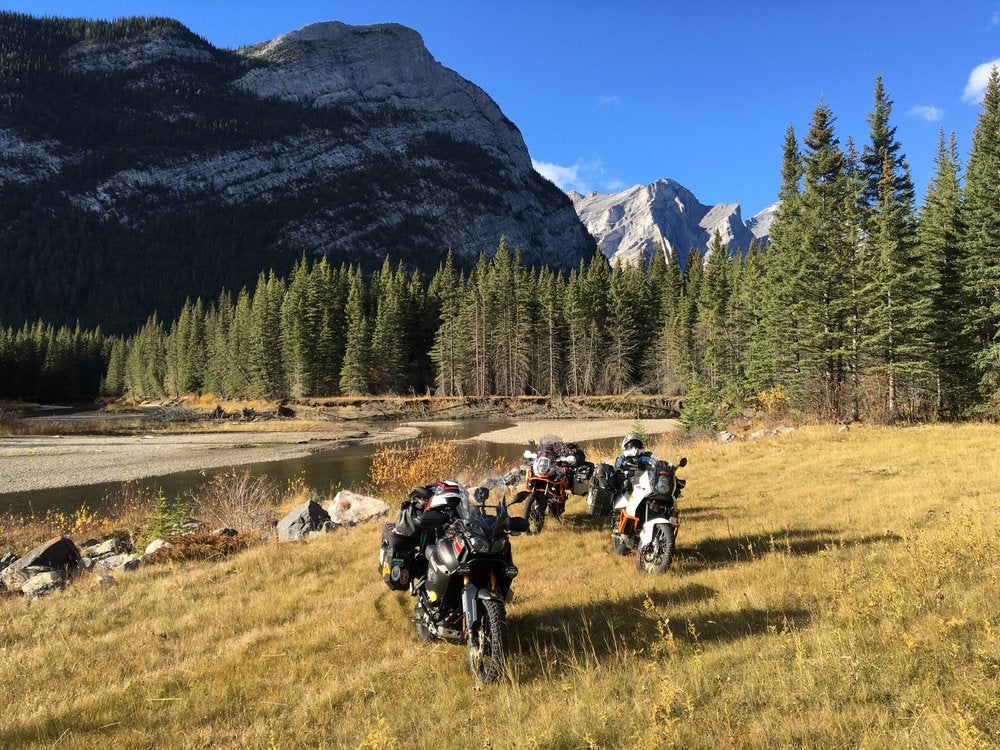 While stopping to get gas in my truck a few years back, I noticed a guy on a fully loaded adventure bike. I got to talking to him about this type of riding and all the advantages that it had to offer. It sounded pretty cool to me! As I drove away I said to myself, "I want to be that guy!!" So I looked around at all the different types of adventure bikes out there and ended up on the KTM990. This was the bike for me. I see it as the dirt bike on steroids.
The Adventure riding has opened up a whole new world for me. The people who share in this type of riding are some pretty damn cool people! The ability to drive on miles of pavement, then ride down a long dirt road and set up camp for the night all on one bike is an experience like no other! Though I'm really not a big group rider, more of the smaller group type, I'm perfectly content traveling "solo". Riding solo is not a reflection of me being anti-social; I'm far from that. But for those who often ride like this you know just what I mean, and for those of you who have thought about it? Try it! It may not be for everyone, but for me, it gives me a chance to recharge and clear my head, plus do a little personal soul searching, not to mention, gain a healthier appreciation for my family and life! 
Epic ride to Alberta & British Columbia with my Adventure friends Marshal Gardner and his nephew Devin.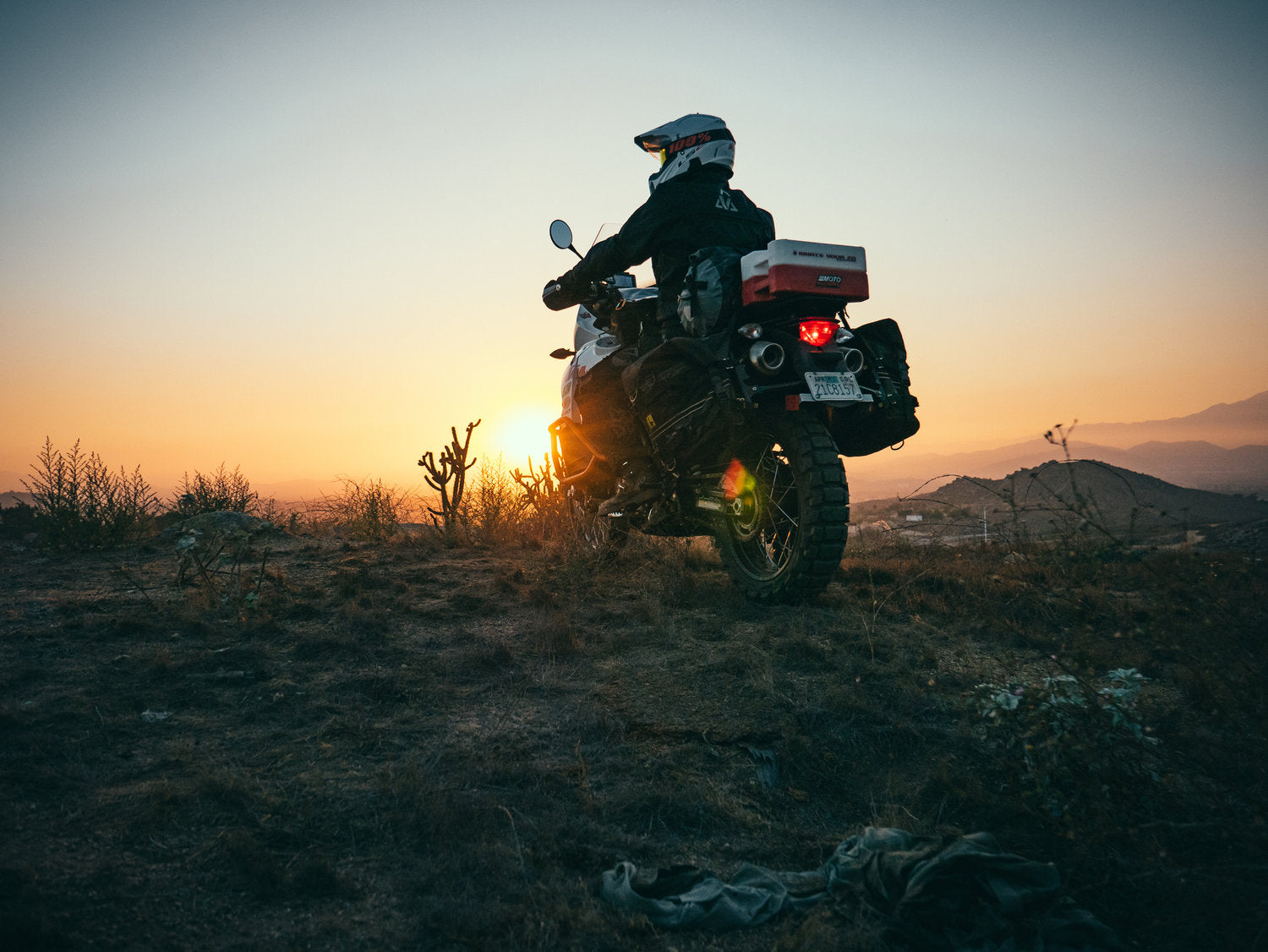 The mountains of Southern California, the place I call home.
ED LUKE IMAGE GALLERY - CLICK TO VIEW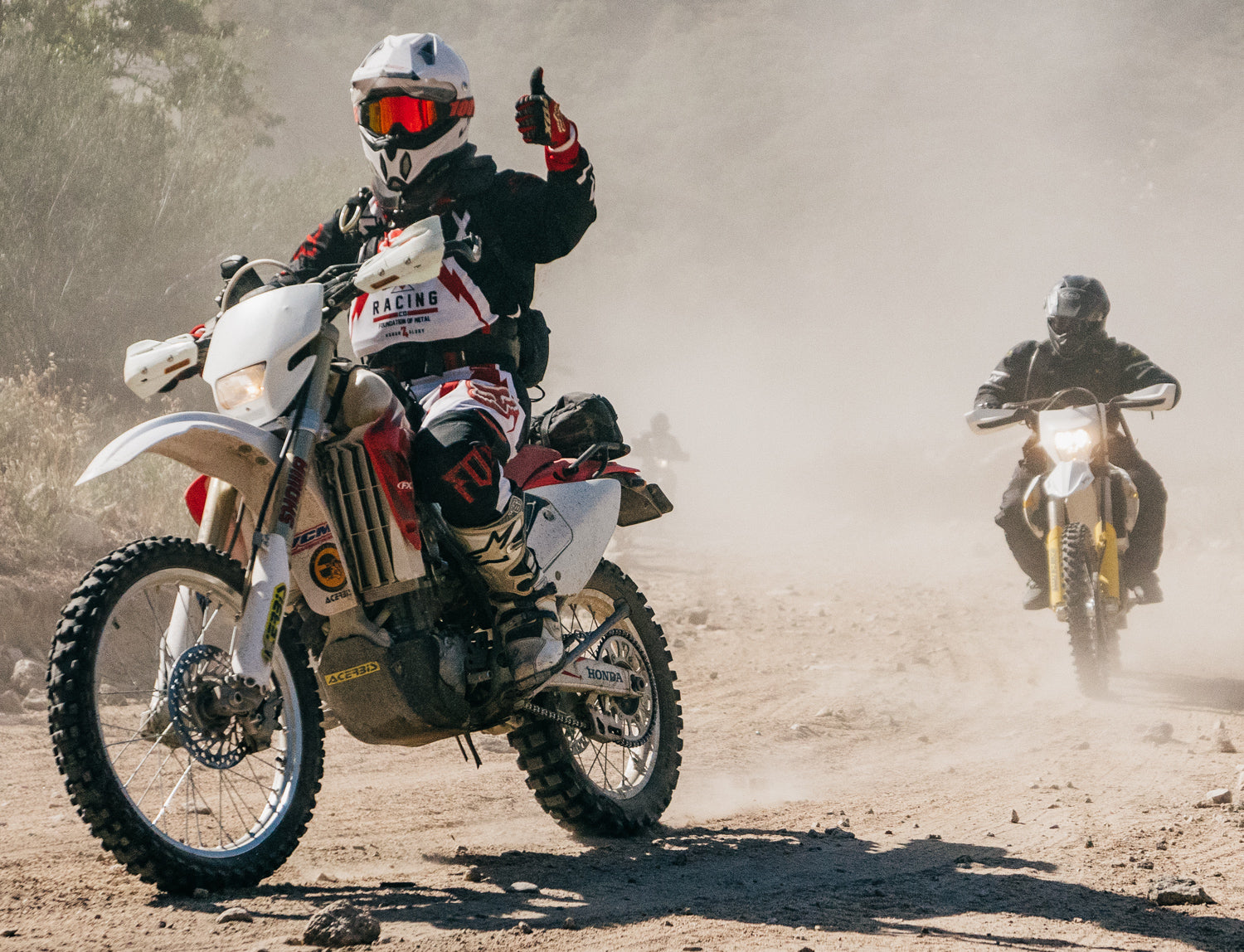 To our knowledge, Ed was the first guy to slap a WLF sticker on the inside tire fender. It definitely caught on! There are riders around the globe placing that sticker in the same spot! Every  now and again we have a good laugh about the 'Ed Luke sticker placement' trend. Thumbs up El Patron!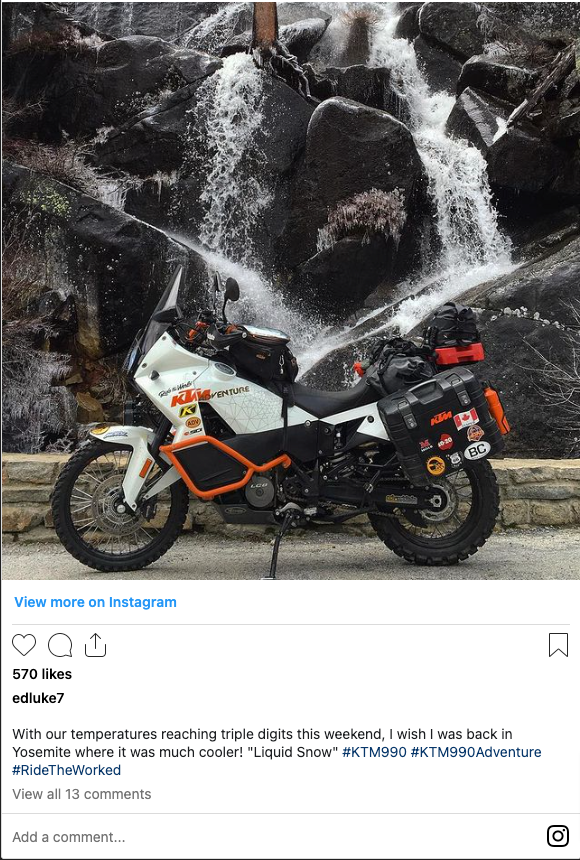 Back in March of 2012 I started my Instagram page, @edluke7  I did this for two reasons; First, I wanted to capture life through my eyes, so if something should ever happen to me that prevented me from enjoying my passion, I'll be able look back on all the fond memories from my photos.
Second, I truly want  to share and connect with others, both far and near, who enjoy some of the same passions and adventures that I do. I've been told that I may be addicted to I.G, which may be true, but what I get from it is priceless.  I've met and made so many new friends from all around the world that it's like I'm going on vacation every time I look at everyone's amazing photos!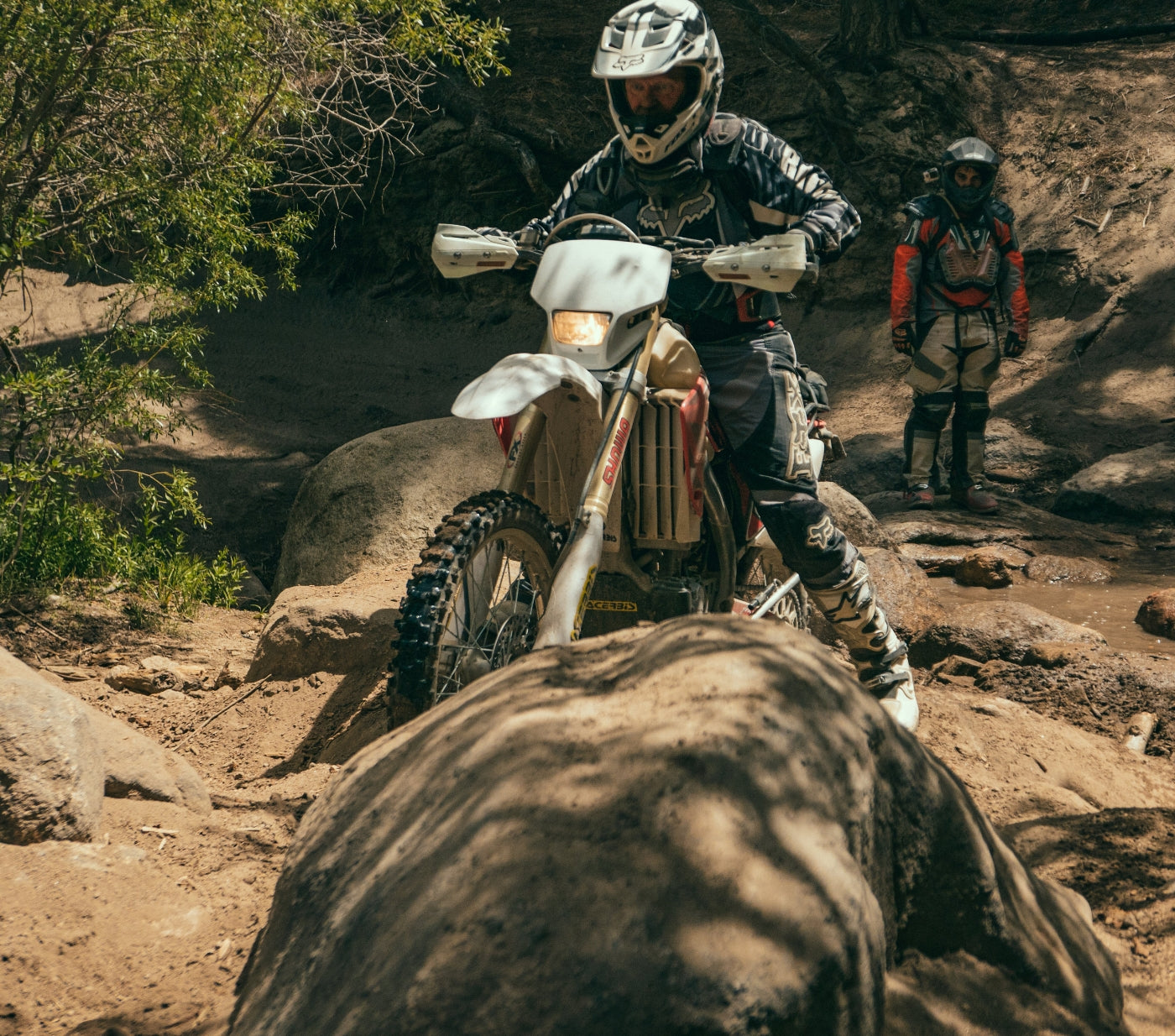 If you ever get the chance to ride with the crew of WLF Enduro, be prepared to go to work!
You may already know, I kept my personal  and family private from I.G, letting only my photos do the talking, yet I'm very fortunate and blessed to have two wonderful, amazing sons and a beautiful, fun-loving wife, who not only is my soul mate, but supports me in my "Adventure of Life"    
So if we ever get the chance to cross paths riding down the road, know this for sure, that under my helmet there's one Big Ass Smile!

 Peace Out!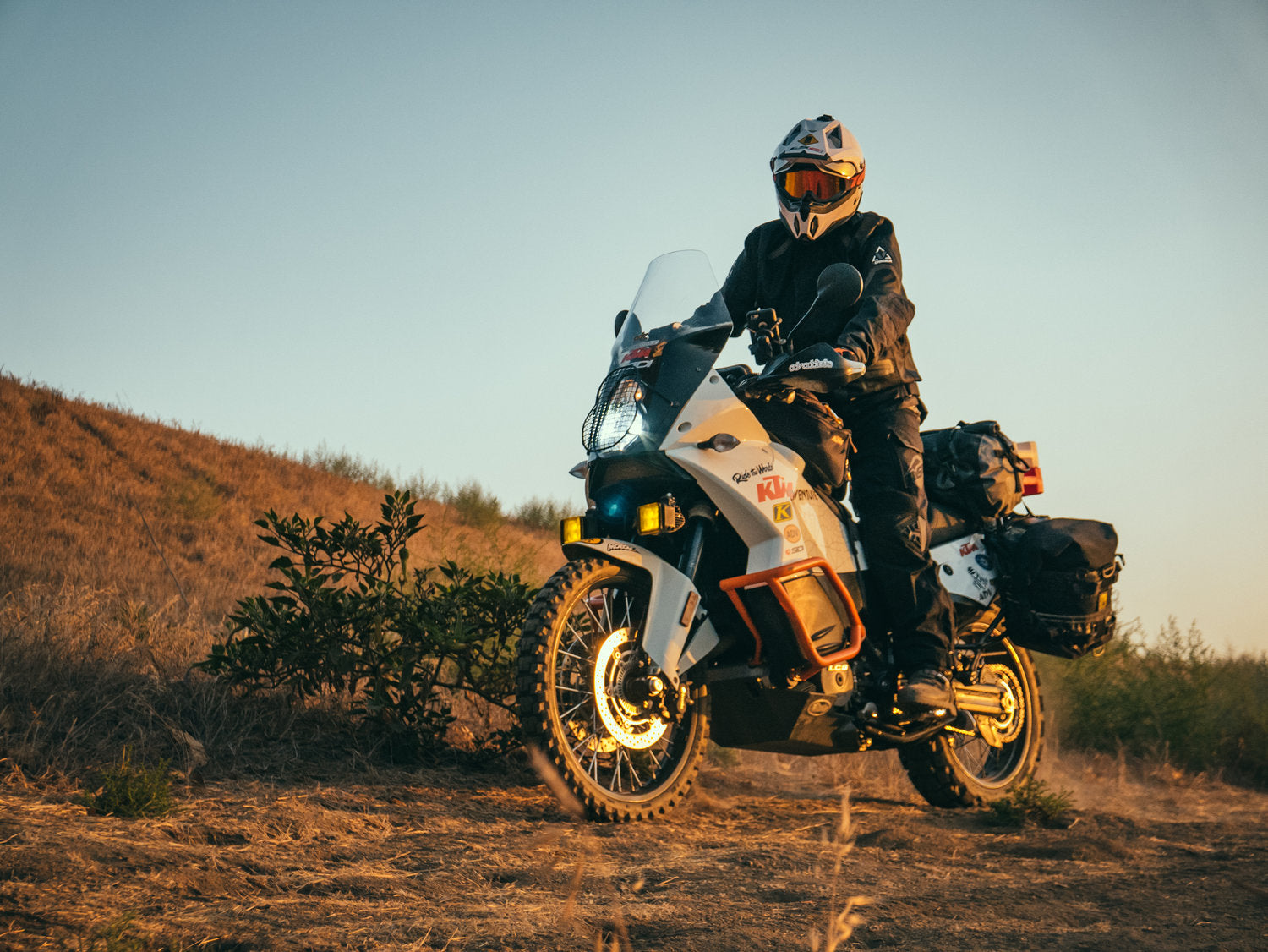 [WLF]
MESSAGE FROM THE TEAM:
We couldn't have more respect for this guy Ed. We met Mr. Luke personally through a local group ride we hosted in the mountains of Big Bear, California. Ed powered through all the tough stuff without a hitch. Since then Ed has joined us for another ride and we've all stayed in contact since. Ed is part of a solid dualsport and ADV group of riders in the southern California area. It's been great to meet his family and crew over the years. Ed is one of those amazing renaissance riders, he's got a passion for anything on two wheels and a garage to prove it. Ed's been a massive support to the WLF community and we couldn't be happier to feature a bigger picture of life on two wheels.
THANKS TO OUR PARTICIPATING BRAND PARTNERS
MALCOLM SMITH RACING | IMS PRODUCTS | SEAT CONCEPTS | STANCE | BAJA DESIGNS | REVER