[WLF] PRO-FILES: TODD & TERRY SIZELOVE - 25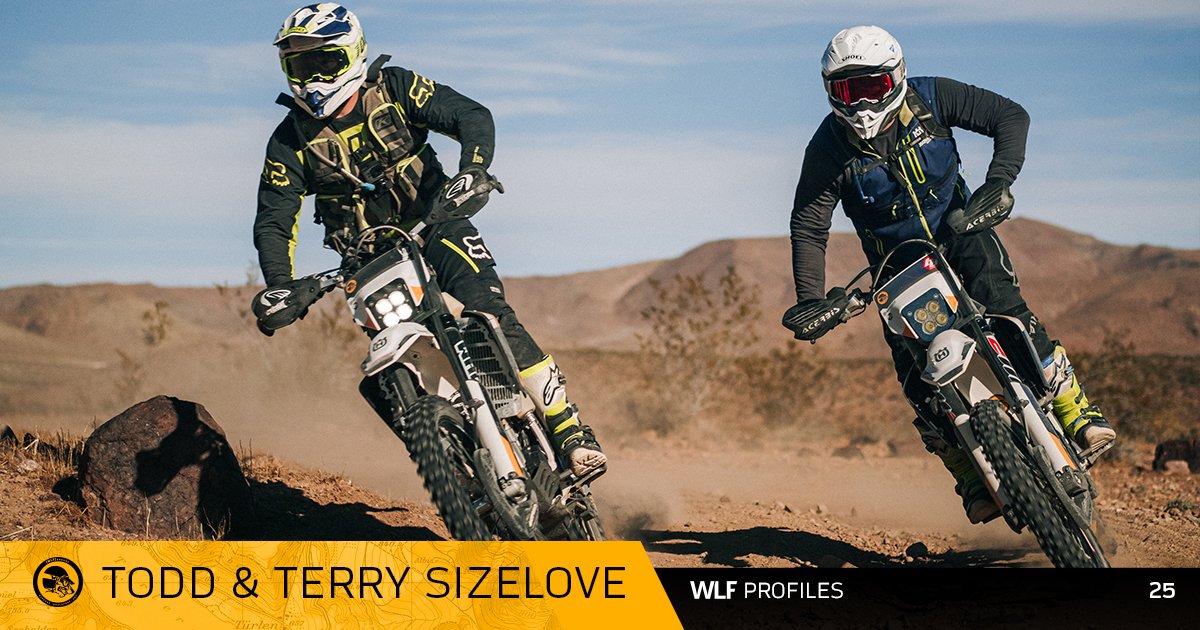 RESIDENCE: SOUTHERN CALIFORNIA
GARAGE:TODD - 2017 KTM, 300 XCW, 2018 HUSQVARNA FE501, 2021 KTM 450SX
TERRY - 2017 HUSQVARNA FE501, 2019 KTM 450SX 
RIDING TYPE: OFFROAD // ENDURO // MX
A LIFE BEHIND BARS
THE TODD & TERRY STORY:
You could say my brother and I were born with race gas in our veins…. We got a kick-start into the moto life from our parents who themselves grew up riding and desert camping. While dating, our parents shared the love of dirt bikes together. When our dad decided to shift gears and marry our mother, instead of an engagement ring she was given a 1979 Yamaha IT250. This set the tone for how the next 35 years would play out.

From a young age of 3 and 5 our parents started riding us around on their dirt bike gas tanks, and this caused us to be hooked on the feeling of adventure and adrenaline. As we got older our parents continued feeding our addiction by giving us one our greatest memories of waking up Christmas morning to new dirt bikes under the Christmas tree. Every moto kids dream! We were fortunate enough to have grown up riding at our family's desert house in the high desert.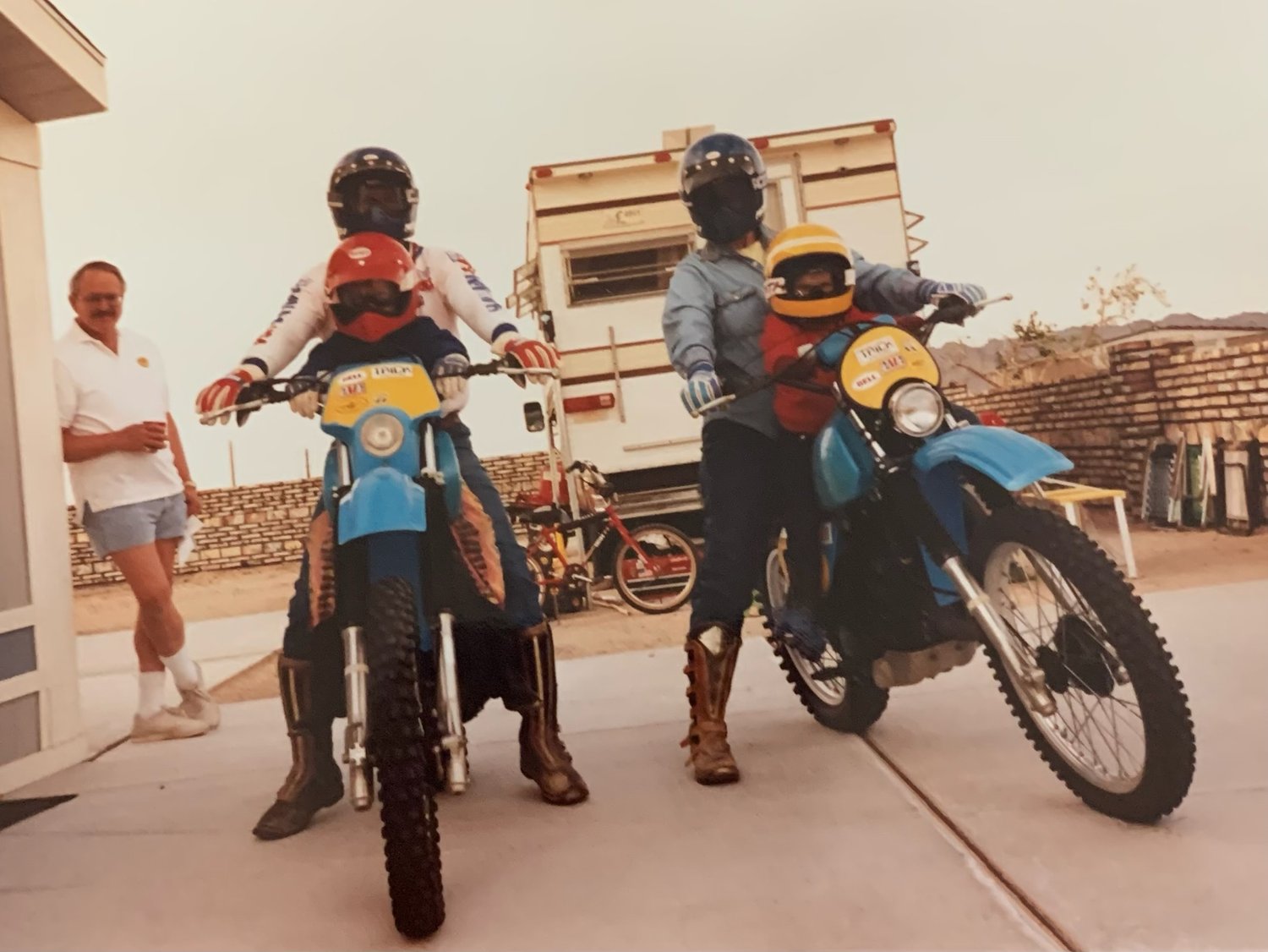 There we would camp on monthly bases with friends and family riding every second we could. This grew into our family camping out with our grandparents camping club at different riding locations around southern California. My brother and I being the youngest in the camping group didn't give us many riding partners but WE stuck together and became each other's competition and drive.
Nothing beats racing 5th gear pinned across the desert in the dust and rocks with your brother. Since we could not afford new bikes every year, we rode all of our bikes into the ground. Our dad, who went above and beyond to maintain our bikes meticulously, had to run our tires at 18 PSI in order to avoid flats and dinged rims. This did not provide for much grip and traction but did help improve our skills… Maybe. One Thanksgiving Terry blew up 5th gear in his 1993 YZ 250. We still can't figure that one out. My dad decided to let terry borrow his pristine 1994 WR 250 for a ride. We did our normal type of riding and some how Terry managed to ding the front and rear rims on that bike in one ride. Terry spent the next 6 months of his allowance saving up to put new rims on dads bike. We would ride our YZ's so much when we would go camping that we would start to crack the foot peg mounts and have to get them re-welded back on. We were all about Yamaha's growing up. I wish we still had those bikes. So much fun to ride.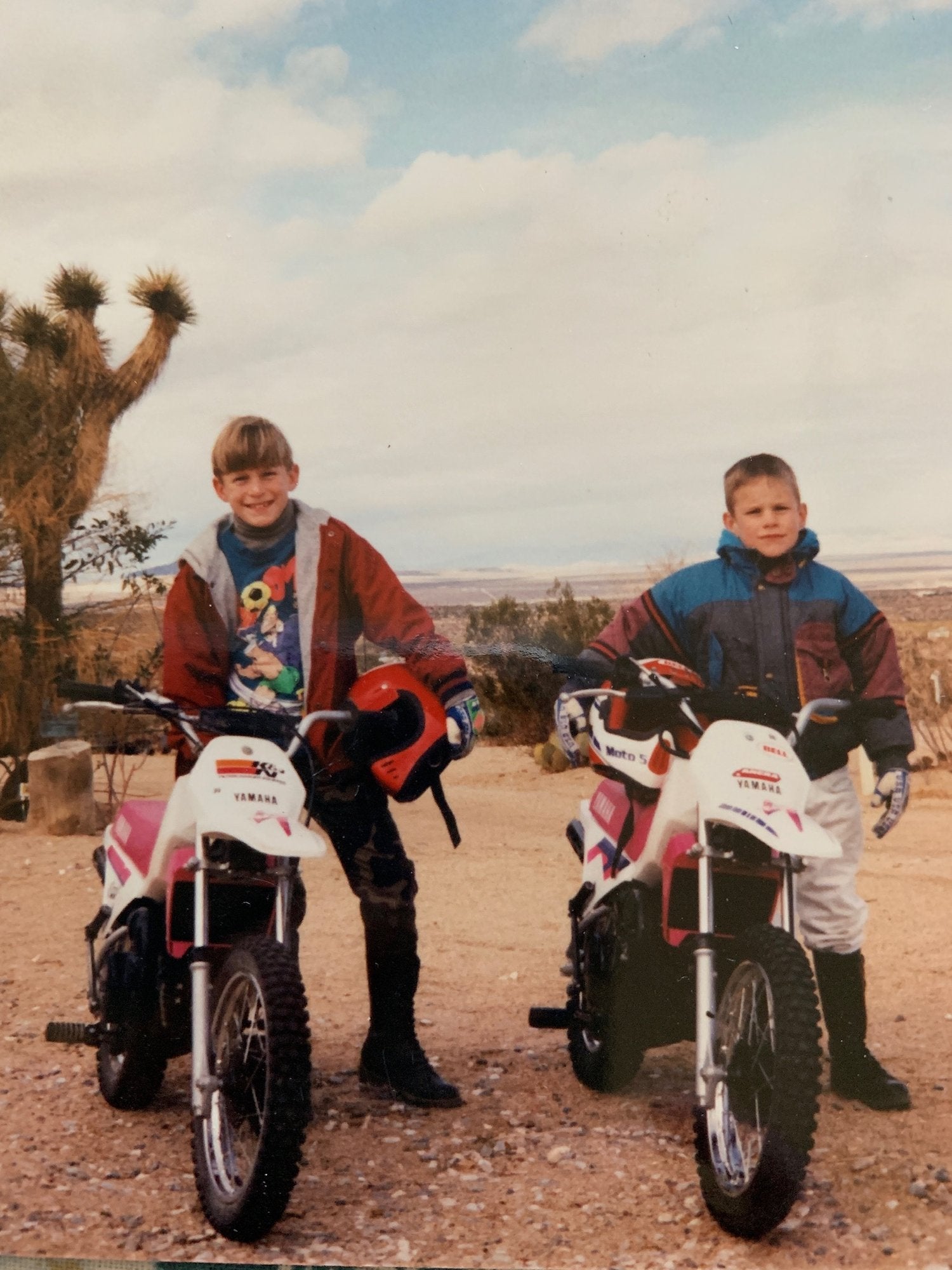 For many years we would always go on family rides enjoying the scenery and trail. Our parents rode with us as much as possible though over time Terry and I would start riding faster and more technical terrain causing us to need "fast brother rides". These rides often involved long grueling rides of 60+ miles.
It didn't matter as long as we were on the bikes and enjoying the ride. When we weren't riding dirt bikes we would be on our bicycles making jumps or we would be watching our favorite videos growing up was Matazattack I'm No Chicken learning how to ride with Jeff Chicken Matiasevich. We practically wore that VHS out. Our favorite part on the Terrafirma videos was watching the off-road guys race across the terrain. We never really raced until we were in high school.

REM races at Glen Helen is where we got our feet wet. Racing is fun but our parents couldn't really afford it and since we didn't grow up with it, it isn't really our true passion with riding. We enjoy racing much more now. We didn't have the most money but our parents spoiled us when they could and would do about anything for us to be able to go riding and camping together. Besides our grandparents house our other favorite place to ride growing up was ocotillo wells. We would camp there every Thanksgiving growing up. We would be riding the whole time for 4 days only to stop and eat. We camped on a old golf course and we would be racing around jumping the sand pits and making berms. One year we rode so much in those 4 days terry and I burned through 35 gallons of gas in our YZ's. Our biggest passion with riding is we love the unknown. Exploring and finding new trails or making them to the top of a new mountain. Conquering what we think hasn't been done before. We would always have a few friends that we would ride with but they would stop riding with us because of where we rode or they would just stop in general. Once again it would just go back to terry and I riding with each other and camping as a family.
Fortunately Terry and I both found our partners in crime that love to camp and ride dirt bikes too. We are very fortunate to find women that grew up the same as us and love camping. So now we have bigger family rides with our parents and wives which is always fun to see them enjoying the sport we all love. Our wives love riding so much they wanted to try their hand at racing. The Lake Elsinore GP was a great way to introduce them to that adventure with some minor hiccups "broken back". So now we just stick to trail riding. Hopefully one day we will have tiny groms to follow around in the desert and grow up with this amazing sport.
WLFENDURO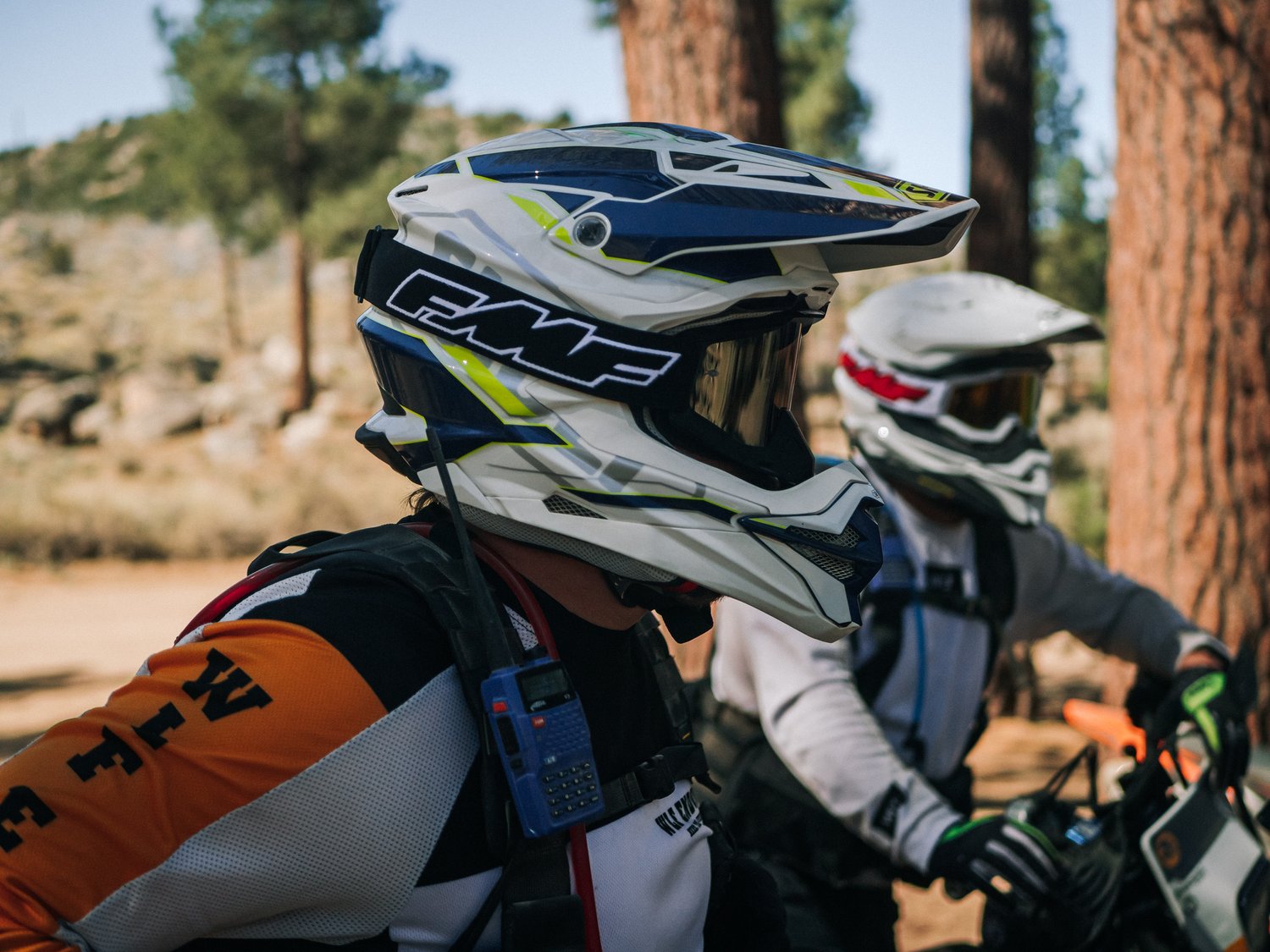 Through social media in 2017 we found WLFenduro on IG and started to recognize certain places they were riding and figured they were local. I had decided to go to the KC66 Caselli Ride Day at Glen Helen and saw the WLF booth and started talking to them. That is when we discovered an amazing network of people that enjoy all the same type of riding as we do. We have even found a few guys who grew up riding in the same desert but never crossed paths with. It really is a small world.
This off-road community through WLFenduro is amazing, It's all about having a good time and enjoying each other. Through WLF we have experienced some great group rides. Stators and Stars was the first event with WLF when we met all the guys Camping in the mountains with epic night rides. We have been fortunate enough to help WLF with their events. One of our favorites is the Mission Ride for veterans. With everything the veterans have done for our great country it is a privilege to be able to go camping with them and go riding to thank them for their service.
Another great event we help with is the Babes in the Dirt. It is awesome to assist these women in conquering terrain they may have thought was impossible. The level of trail stoke is so high with them cheering each other on through every obstacle. Everyone is willing to help one another to get through the gnarliest of trails. It is a great event spreading the passion of a sport we love so much. Riding more with the WLF crew has really given us the opportunity to make great friends.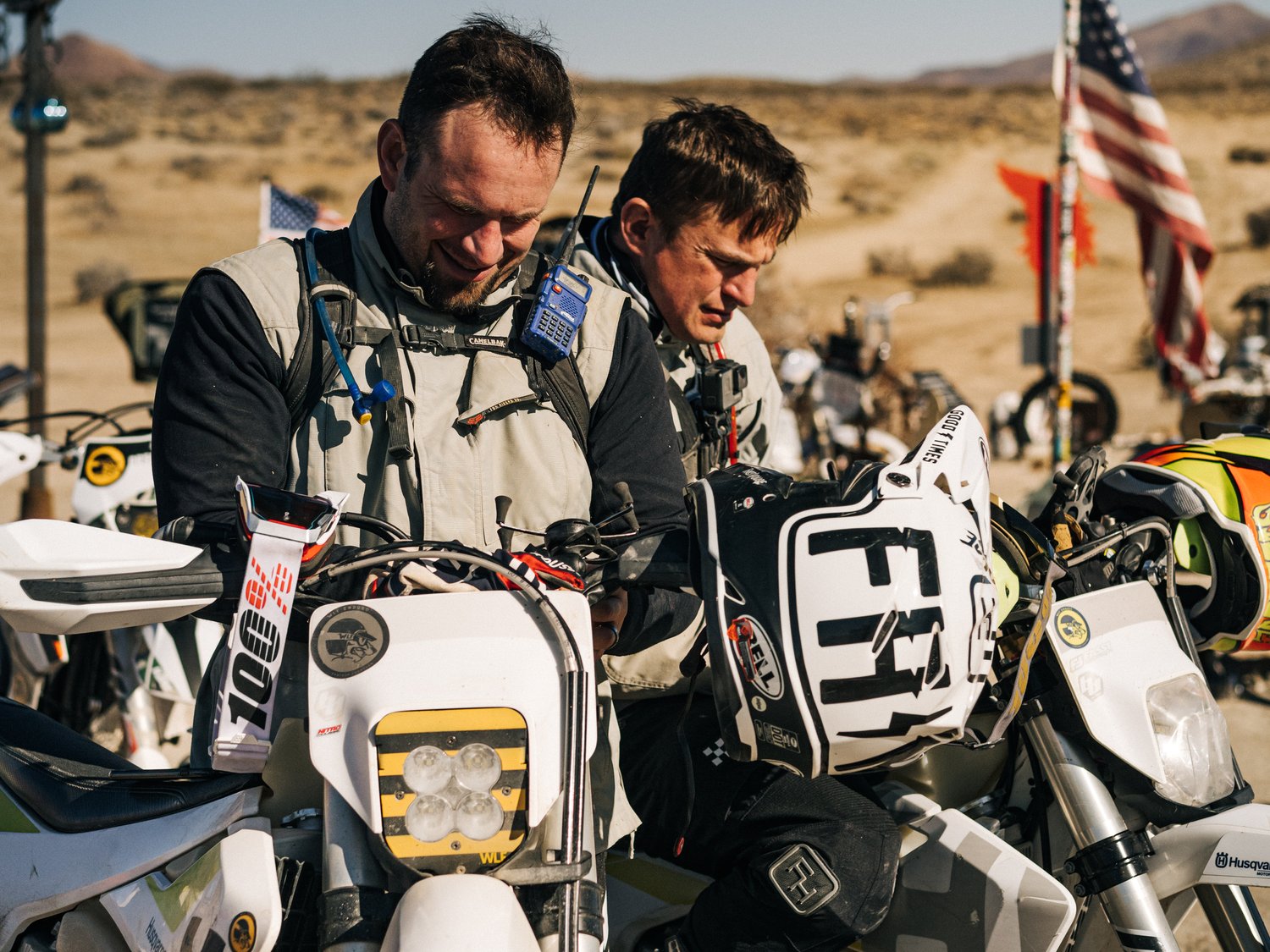 We also discovered the Big Bear Trail Riders (BBTR) group who helped us to experience more epic rides with our new group of friends. The B2R 250 is a ride we are always sure to make. Sharing two days of riding with your friends brings smiles for days. Although the weather for this ride is always a flip of the coin for what you will get. The first year doing it we just about froze to death. It started with rain soaking our gear, then decided to snow the rest of the ride finishing freezing our hands. We don't think our hands have ever been that cold before. Terry and I love challenging our skills.
So we decided to try the hard enduro race called Last Dog Standing at Glen Helen. That was definitely the hardest race we have ever done, and we are now hooked. The gnarlier the trail, the more we thrive off of it. The other hardest ride we have done is the BBTR Big Bear 200. That is one of the longest days you can experience on a dirt bike. 200 miles of the hardest trails in big bear that take on average 9-12 hours to complete. Riding it we only stopped for fuel and a snack. We definitely love the challenge of their ride.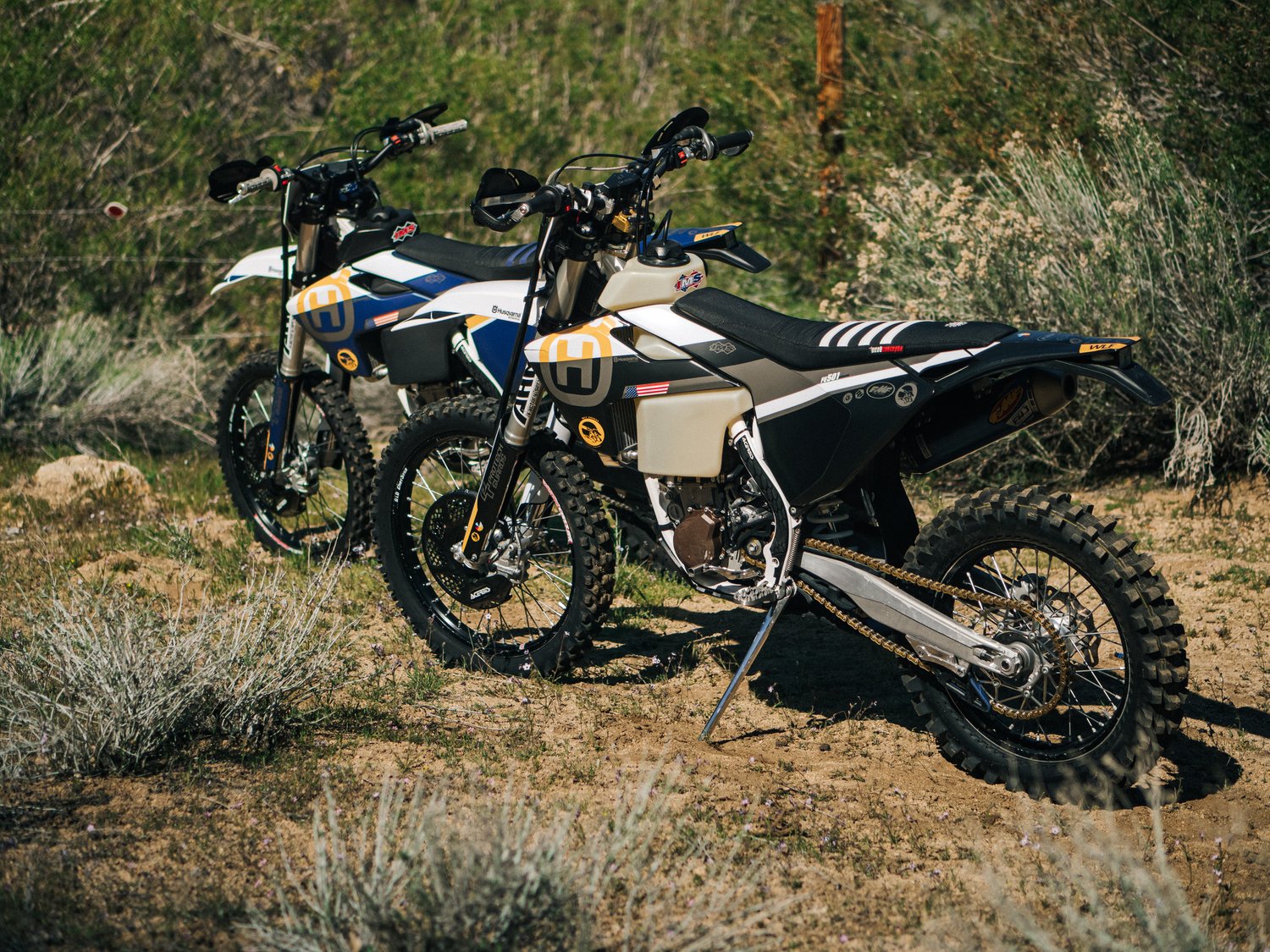 What makes these rides fun is we always do them together to push each other over the next hill. We started to coordinate group rides with each other in places I never thought I would go and ride. Every 6 months we try to go someplace new. We started with AZ and moved on to Utah and the epic mountains in California that we didn't even know existed. We are thankful that WLF has put together this great community of friends that ride. With the group of friends we have you can literally be riding every weekend with someone new. We have probably ridden more in the last 5 years with WLF than we did in the 10 years before that. It is truly an addictive sport to experience with friends.
WLFUTURE PLANS:
We've enjoyed racing a lot more the last few years because of the network of friends we have been able to make. We have met a rad group of guys that race the Glen Helen 24hr endurance series and hopefully one of these days we can complete the whole series. Our teams have been plagued with bike failures, loosing the transponder, or just trying to get everyone's schedule to line up. It is definitely not an easy series to complete. We have also been racing the D37 Sprint Enduros.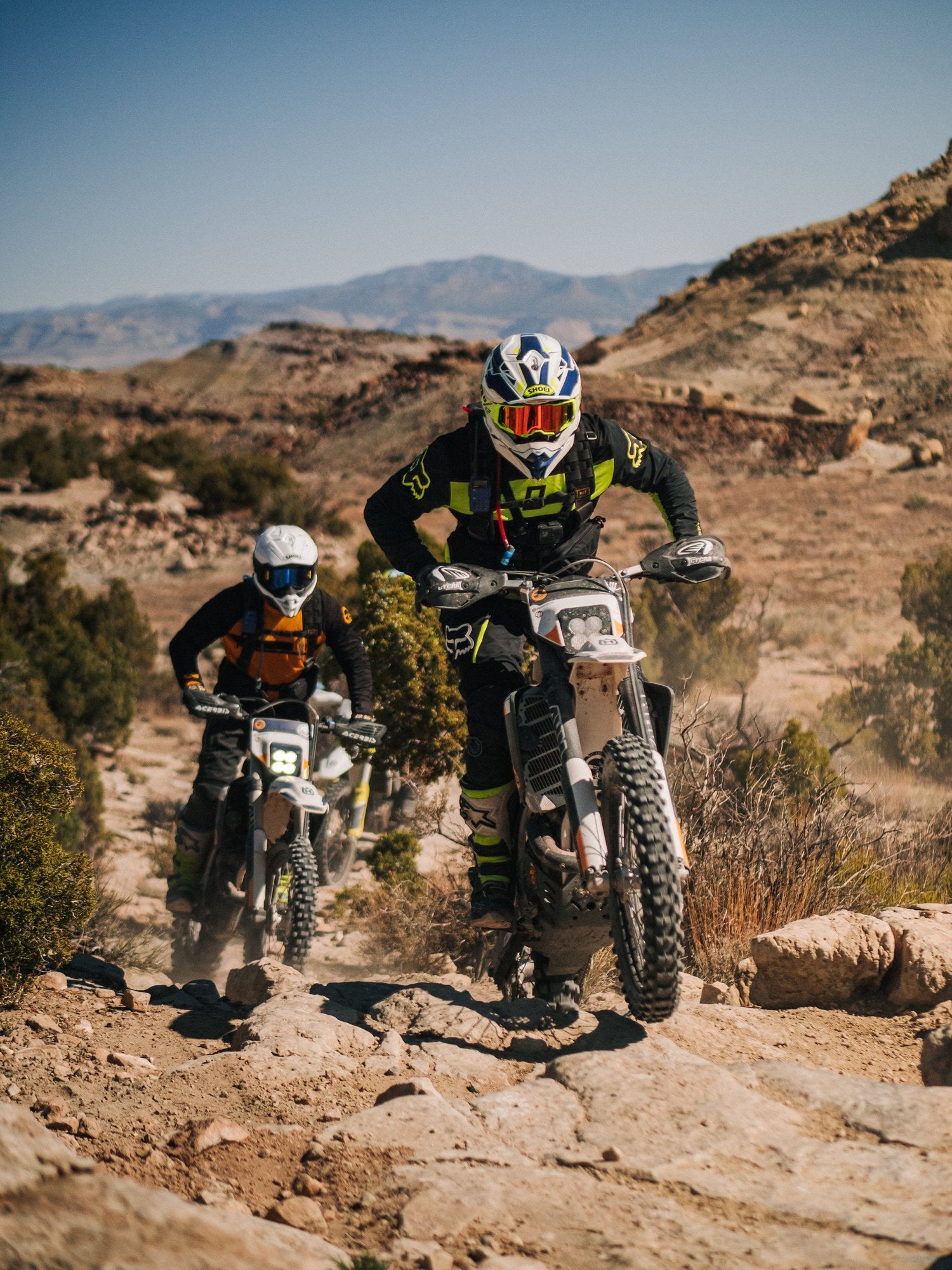 If you have not checked these out I highly recommend anyone to do them. You are racing against the clock of the other racers and consistency is key. It is definitely not as intimidating as a D37 Hare and Hound. We also hope to complete more D37 Hare and Hound races. Nothing beats a dead engine start race at a Hare and Hound. To leave the line with 50-100 riders chasing dust through the desert is one of the coolest and most frightening experiences you can have.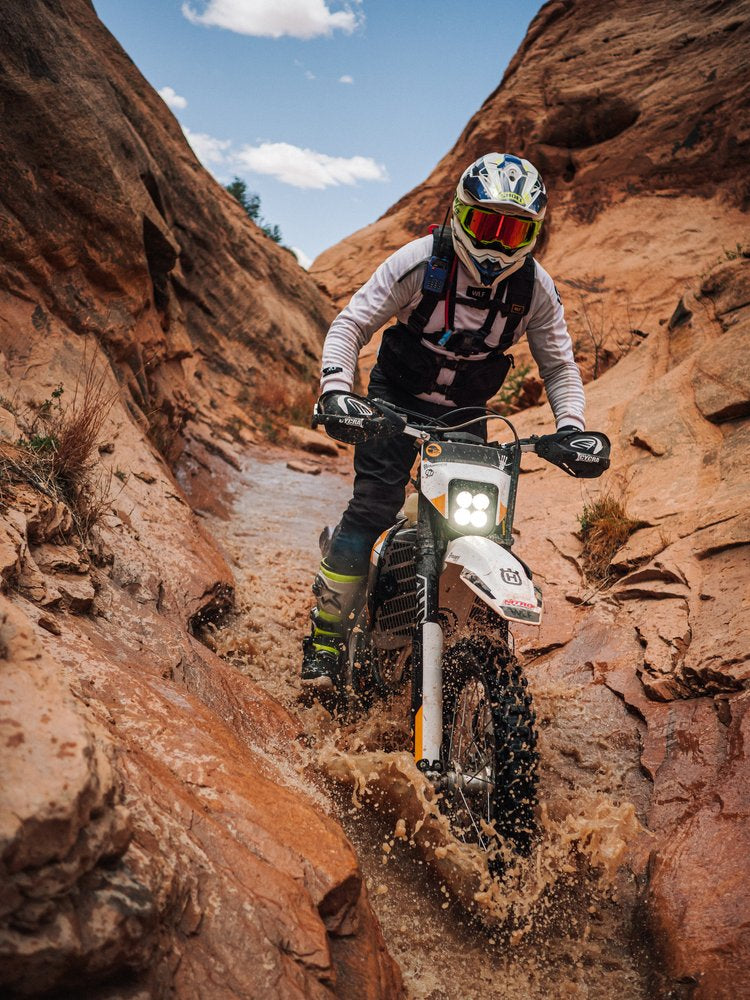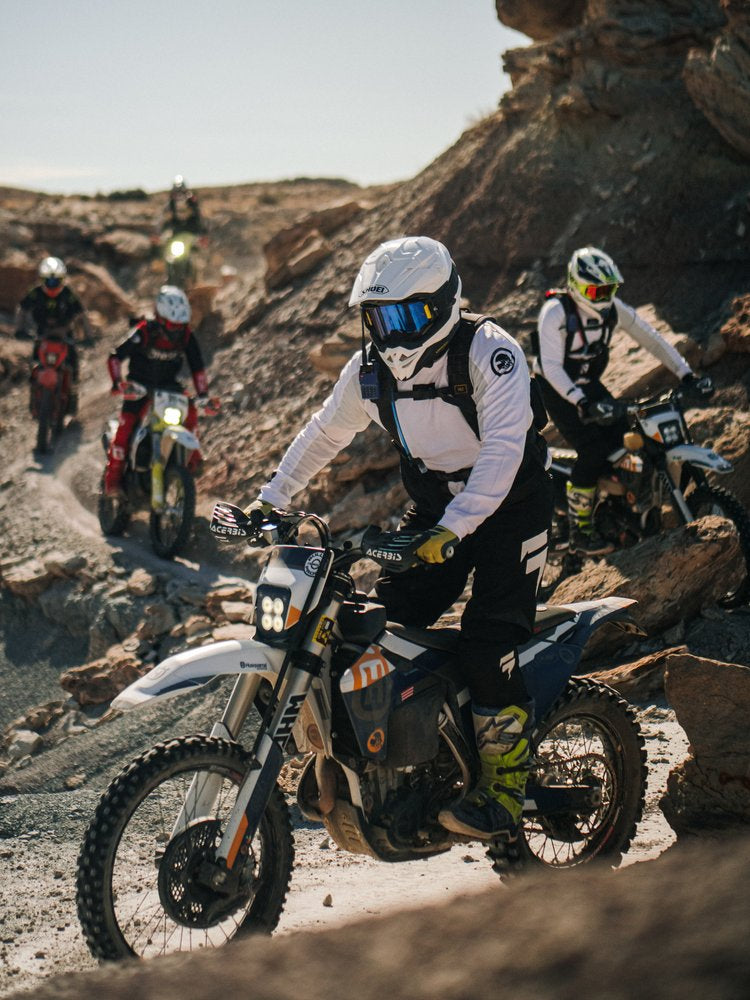 We are very thankful to have found some of our best friends through this sport. Hopefully we can continue to support WLFenduro with their events and exploring rad new places to ride with them. For the future we hope to be riding until we are old and gray with our children and cross our fingers grandchildren. At 70 years old our dad still rides and enjoys it like the day he first started. Never stop doing what you love and WE hope to see you on the trail.