[WLF] PRO-FILES: Hank & Tom Miyao - 14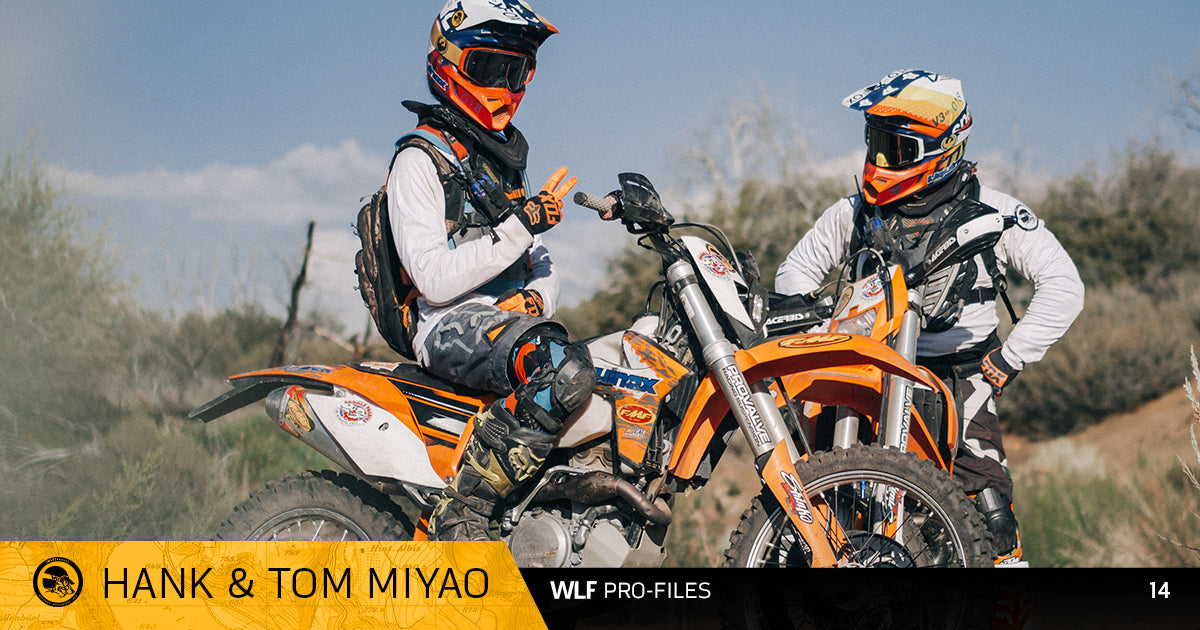 RIDERS: HANK & TOM MIYAO
RESIDENCE: COSTA MESA, CA
GARAGE: HANK- 2013 KTM XCF-W 350 // TOM- 2016 KTM XCW300 & 2010 KTM XCF450
RIDING TYPE: OFF-ROAD - DUALSPORT - ENDURO
It started innocently enough, a 9-year-old skateboarding hell raiser, out looking for kicks.  The year was 1979, I had already been skateboarding for three years, but even at a young age I pretty much knew that I wanted to make skateboarding my life.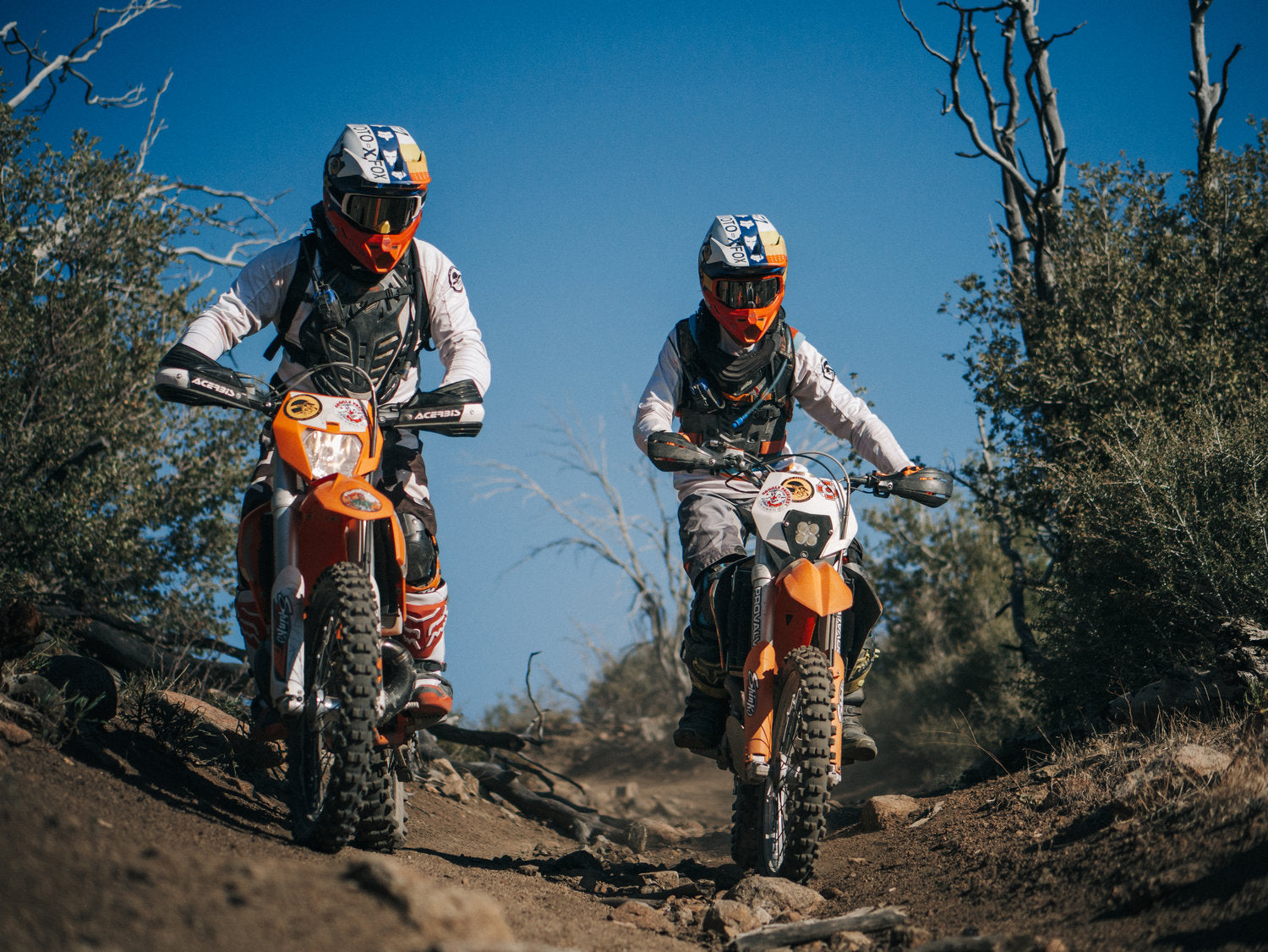 That's right, skateboarding took complete control of my life, that and my buddy Jamie's Honda CT-70! His dad was NOT into letting anyone ride the bike, but I kept bugging Jamie to let me ride it, finally he caved when I suggested, "hey pull me on my skateboard down the street, lets see how fast I can go!" we were hauling ass! Fully out of control, almost dying… but totally worth it!  Jamie was freaking out, "dude, my turn, lets trade!" there it was, finally I'll get to take a rip on his bike! "ok, its three down and don't wring out first gear" I had no idea what any of that meant, I got on and fully wrung out first gear….
But that was the jumping point: skateboarding, motorcycles, surfing, punk rock. Go fast, try not to die.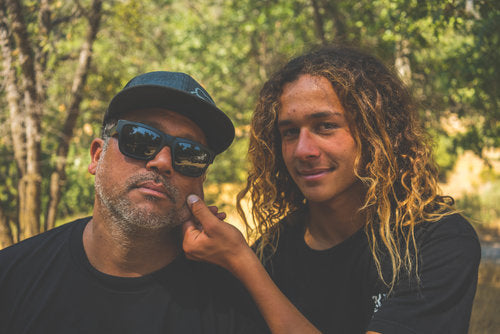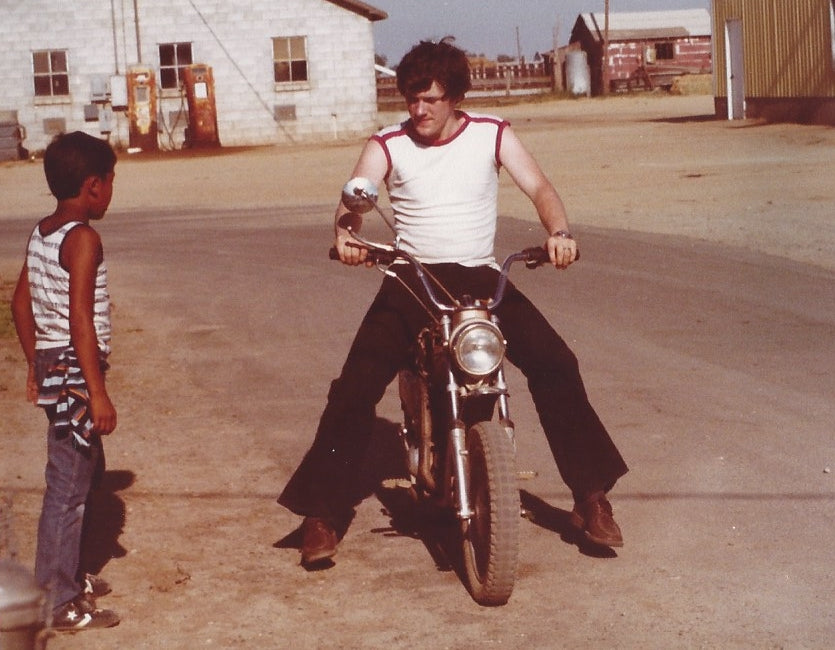 In the summers I would spend a lot of time on my Aunt and Uncles Dairy farm, Jack and Louise Vierra (I owe them a lot of credit) there was a haggard old Honda trail 110 that I would use to go irrigate the alfalfa, a simple 30-minute job would turn into an all-day project! In one of the storage barns, my cousin Ray had an old Suzuki 250, I couldn't kick start it, so I would push it to the top of the loading dock ramp, click it into 3rd gear run as fast as I could and PRAY!
Fast forward to the 80's, high school (all 7 of them) and being a sponsored skateboarder, when there were none. I would always try to get on a bike wherever I could, but for a long stretch I was bike less.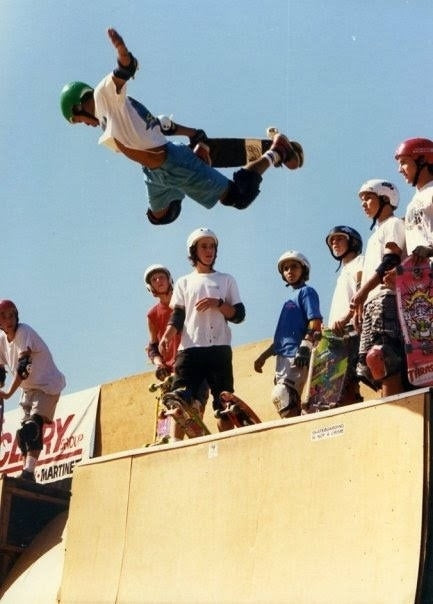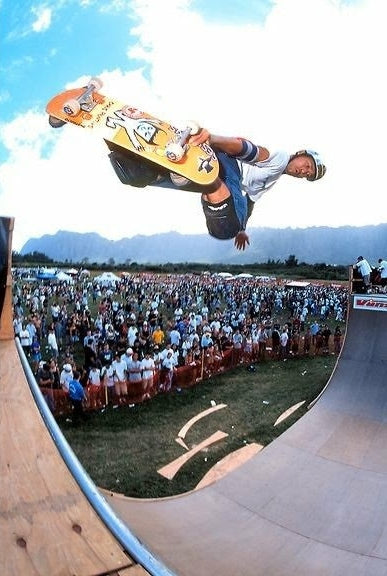 Being a vert skater right at the wrong time was very hard for me, I was washed up by the time I was 16 (according to a certain team manager) as the new wave of street skaters were taking over, my girlfriend (now wife, Tamara) and I decided to move to Maui, where the surf is epic and vertical ramps were alive and well!! You know what else was alive and well? Dirt bikes! My buddy Adam and I were farting around at garage sales in Kihei, where he bought a guitar amplifier and lent me the $25 to buy a 1982 Yamaha IT 250, it was haggard and had a cracked tank, but my other buddy Wrede Whitney got it running for me, and so began chapter two of the love affair. I started buying bikes, and working part time at the local moto shop, Aloha Cycles, under the tutelage of Curt Furumoto, I did top ends, brakes, laced wheels, re-skinned seats, pretty much all the grunt work. But I learned to turn wrenches. (Invaluable)
The best waves, the best (at the time) ramps, and hands down, the best terrain for enduro riding!
GOING BACK TO CALI….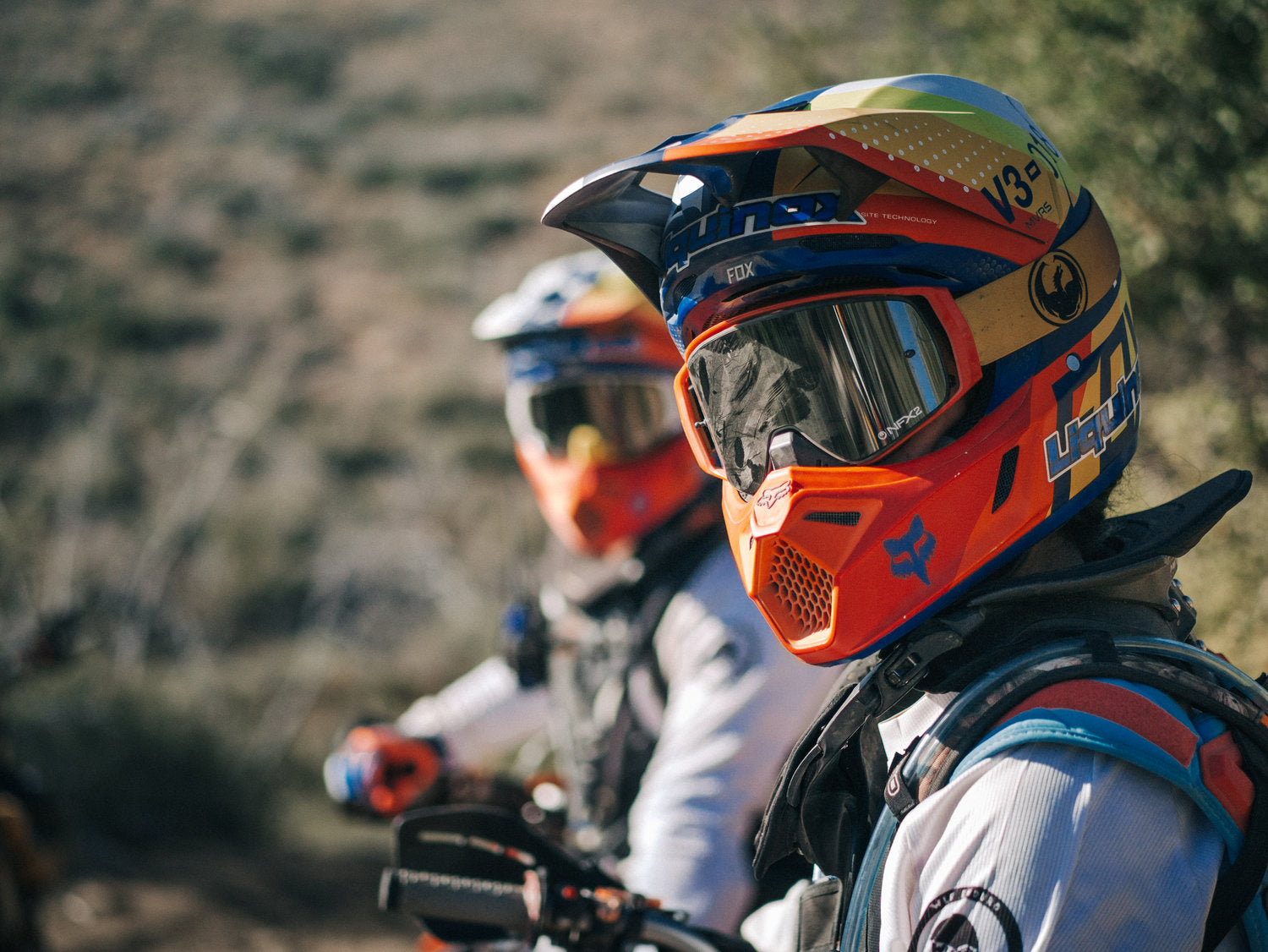 I know, I hate that too. Whenever people say "cali" I still cringe a little. I digress…
In between all that, there were a bunch of contests, a zillion skateboards, a lot of travel and a busted knee, now were at the year 2001, where I was working for Black Label skateboards as the team manager, that was epic… but more importantly, my son Hank was born. I delivered him and he was born with his eyes wide open, the doctor said that was rare and special, he looked right up at me and I (no joke) said "hey buddy, welcome to earth, lets party!" and anyone that know me, knows Hank and I RAGE! If I'm going skating, hank is going skating, if I'm going surfing, Hank is going surfing. But what about moto? Well that's where our friend, Brannon Garner (funky fresh odis) comes into the picture. We moved right next door to some motocross maniac, he would always talk about moto, but I never let him know I rode too, there's noting worse than the "oh bro, I used to kill it! The LBZ guys were going to hook me up, but I broke my wrist and had to hang it up" that guy… so I kept quiet, until we went on a family desert trip and on the last day he said: "try my bike, but go easy! Its not a toy, it's a weapon of mass destruction!" I jumped on his KTM and instantly, all the madness came raging back! That was all it took; the die was cast! I came back to camp grinning ear to ear, and my poor wife, Tamara instantly knew. "oh no, here we go again"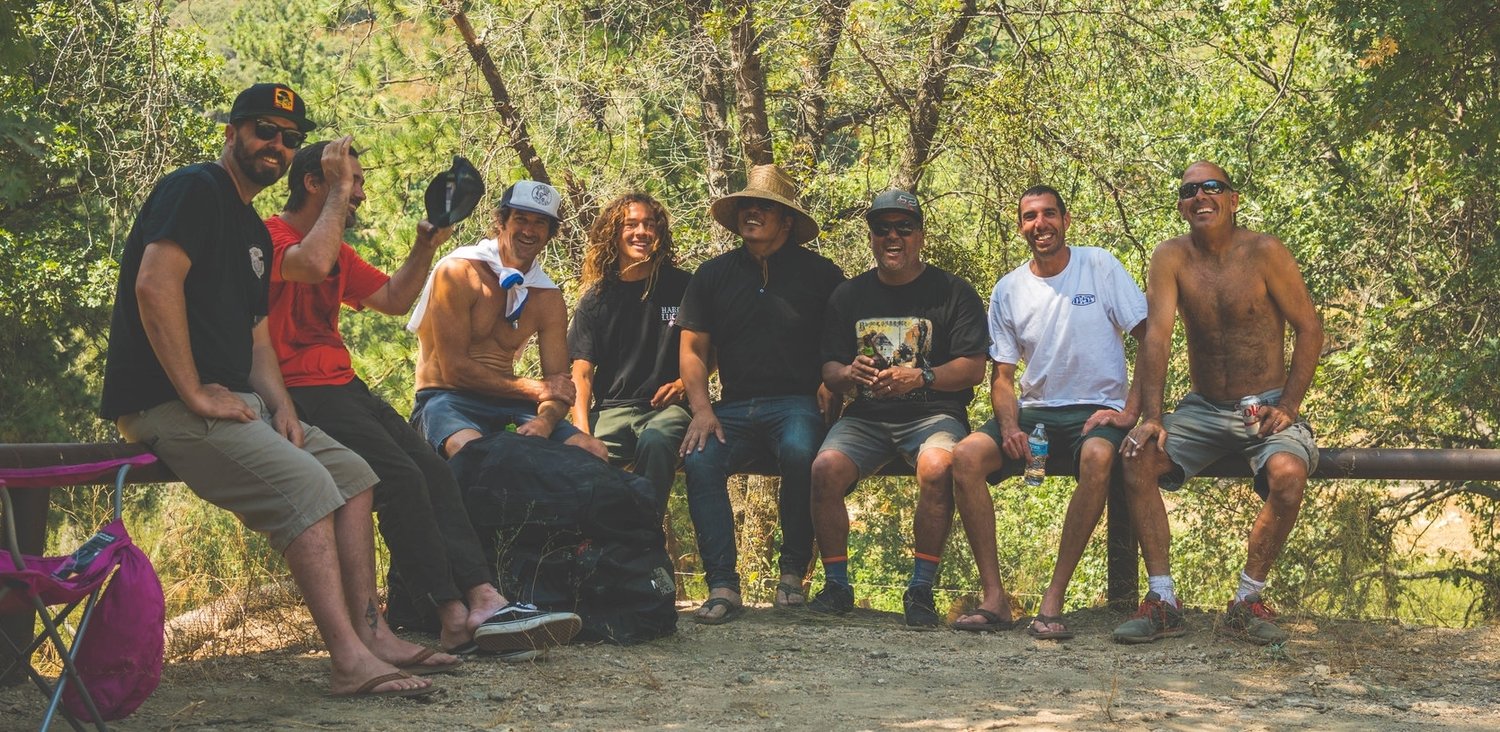 And like skateboarding, surfing and now snowboarding, if I'm going, so is Hank! His first bike at the age of 8 was a Yamaha TTR-125, then a Honda crf 230, then our friend Mark sold us a KTM xcf-w 250, now at 16 he's on a KTM xcf-w 350 (probably needs a 450) me, Ode, and Hank would ride every weekend, we were having a blast, and got progressively more serious and better. I would scour social media, looking for riding groups that were fun, yet safe. Enter the Wolfpack, the rides and events that WLF host are second to none, so that gave me and Hank the idea to start our own little offshoot riding group, the Gogglepackers…. Just the name alone should conjure an image of hi-jinx. The original 7 riders are called "The magnificent 7" (yes, like the Clash song)
"We take the skateboarding ethos, and mash it in with enduro riding, it's all 100% fun. Our motto is 'going nowhere fast'."— HANK & TOM (LEADERS & MEMBERS OF CODE BOZO)
What does the future hold for me, Hank and the Gogglepackers?  That's an unknown, the future is un-written! (thank you Joe Strummer)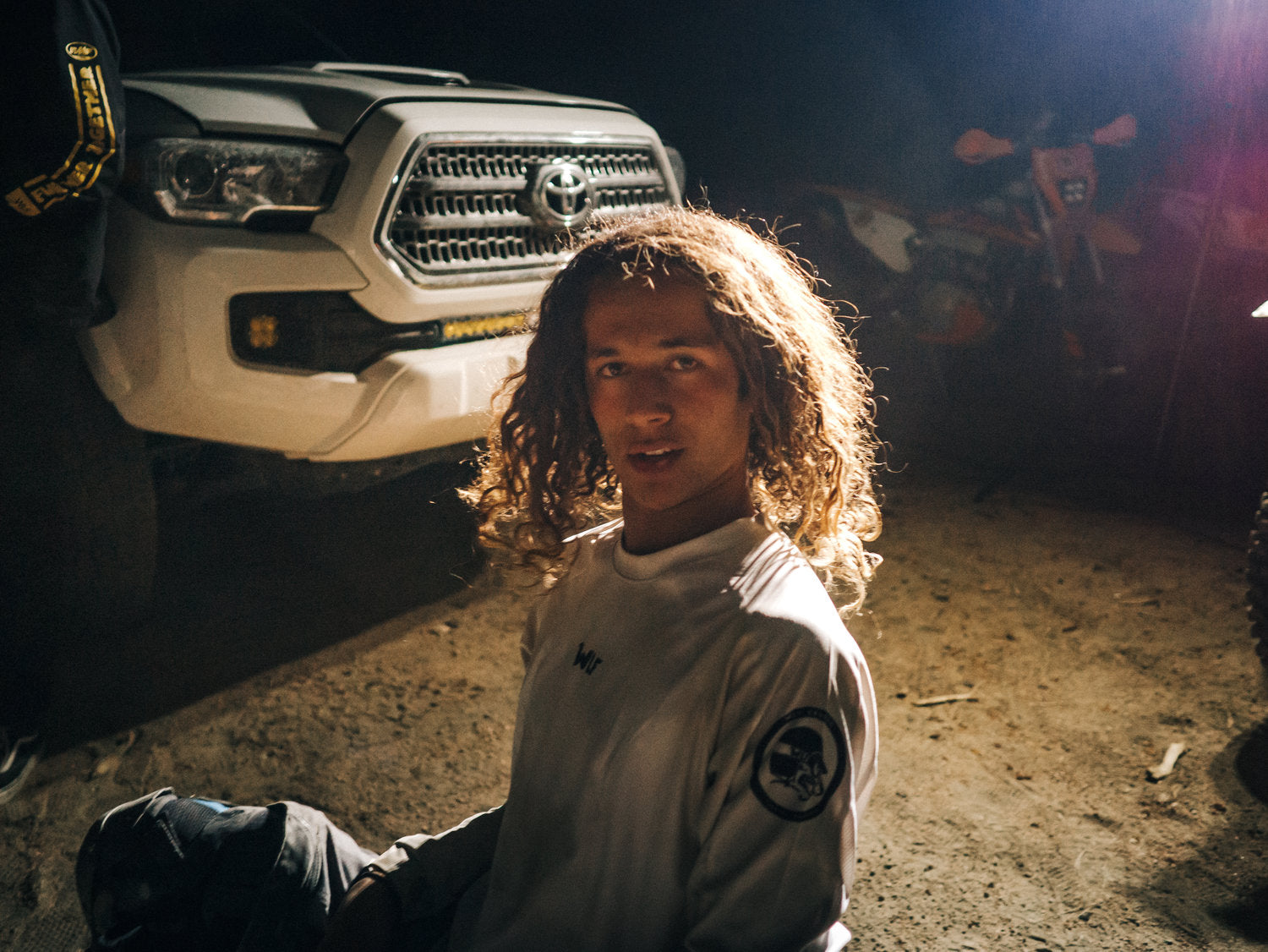 A MESSAGE FROM HANK THE TANK:
Hi my names Henry Miyao.  I love to ride motorcycles. One of the things I love most about motorcycles is riding technical sections with a lot of rocks. It really shows how good of a rider you are and how well you handle under stressful situations. If you go to fast, you fall. If you go to slow, and hesitate, you fall. One of the best parts of riding in technical sections, is getting past all of it, and looking back at the rest of the group, as they struggle and thinking to yourself: "Ha! Glad im not that guy right now."
Riding is all about having fun with your buddies. That's why I started the riding group goggle packers. One of the things I wanted to make sure of when I started goggle packers was to make sure that no one took himself or herself to seriously. That's why I invented: "The Pie in, Pie out" method. Basically what that means, is that to make sure that no one gets "Jockey" we put a pie in their face when they are first introduced to the group, to let them know that were all just a bunch of bozos that like to goof off.  I feel the goggle packers represents the true meaning of riding, which is to just get on your bike and forget about whats happening around you. To, forget all the rules.  To, be a little kid again, and be an idiot with your friends. That's what riding all about man.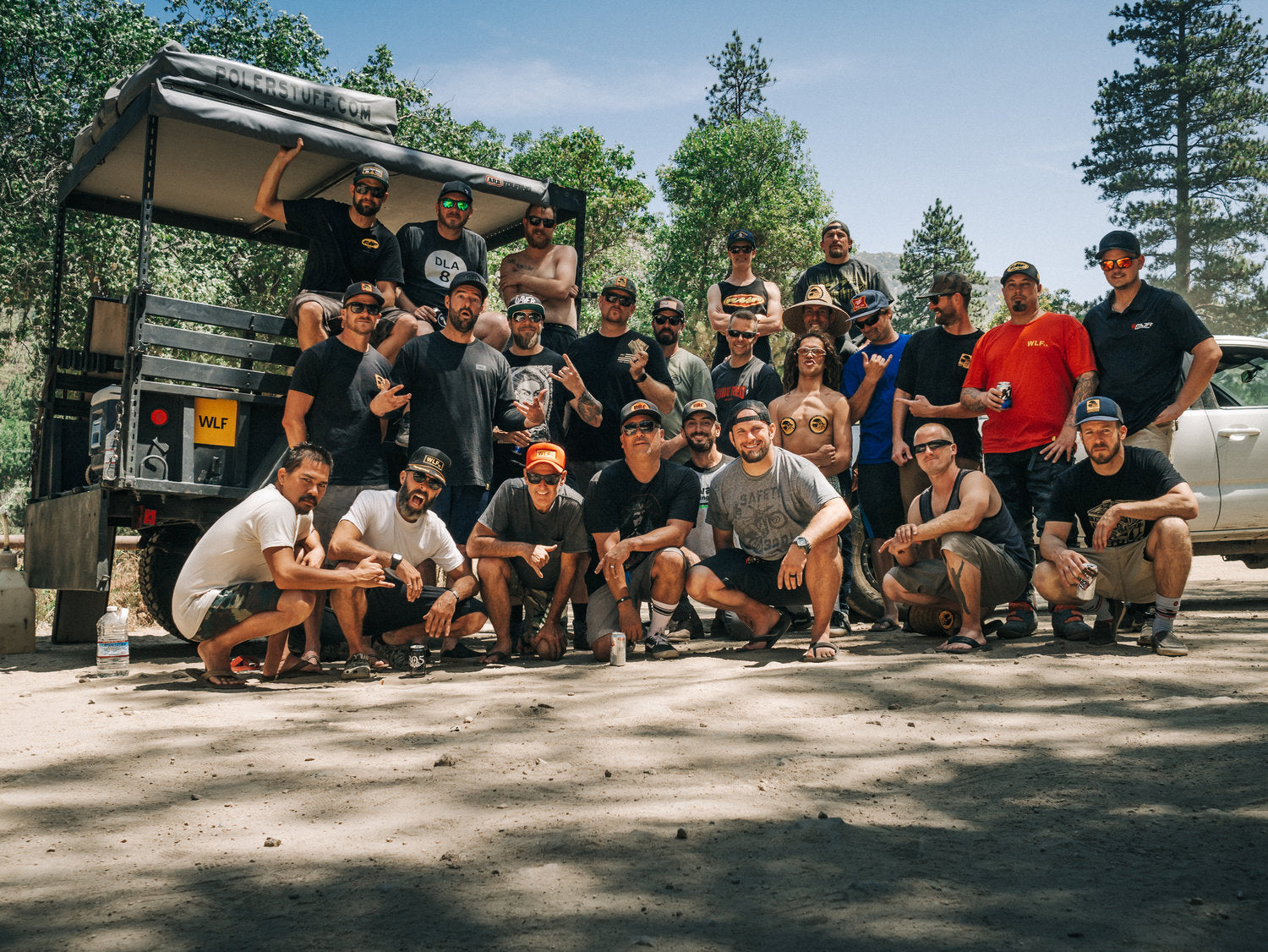 WLF Enduro on the other hand,  has their game together way more than we do. They organize big ass rides, with lots of people and some hard terrain. I love that aspect of riding too. WLF rides accomplish a lot and they are really put together well. Our rides though… well…. We set destinations and routes and stuff. But we never really get there. Hey man its like that saying: " its not about the destination its about the journey"
My dad, sought out the WLF Enduro because he wanted to find a riding group that were organized, had fun but were also a great group of people, not an easy task, but after the first ride with the Pack we both knew we had found a solid crew!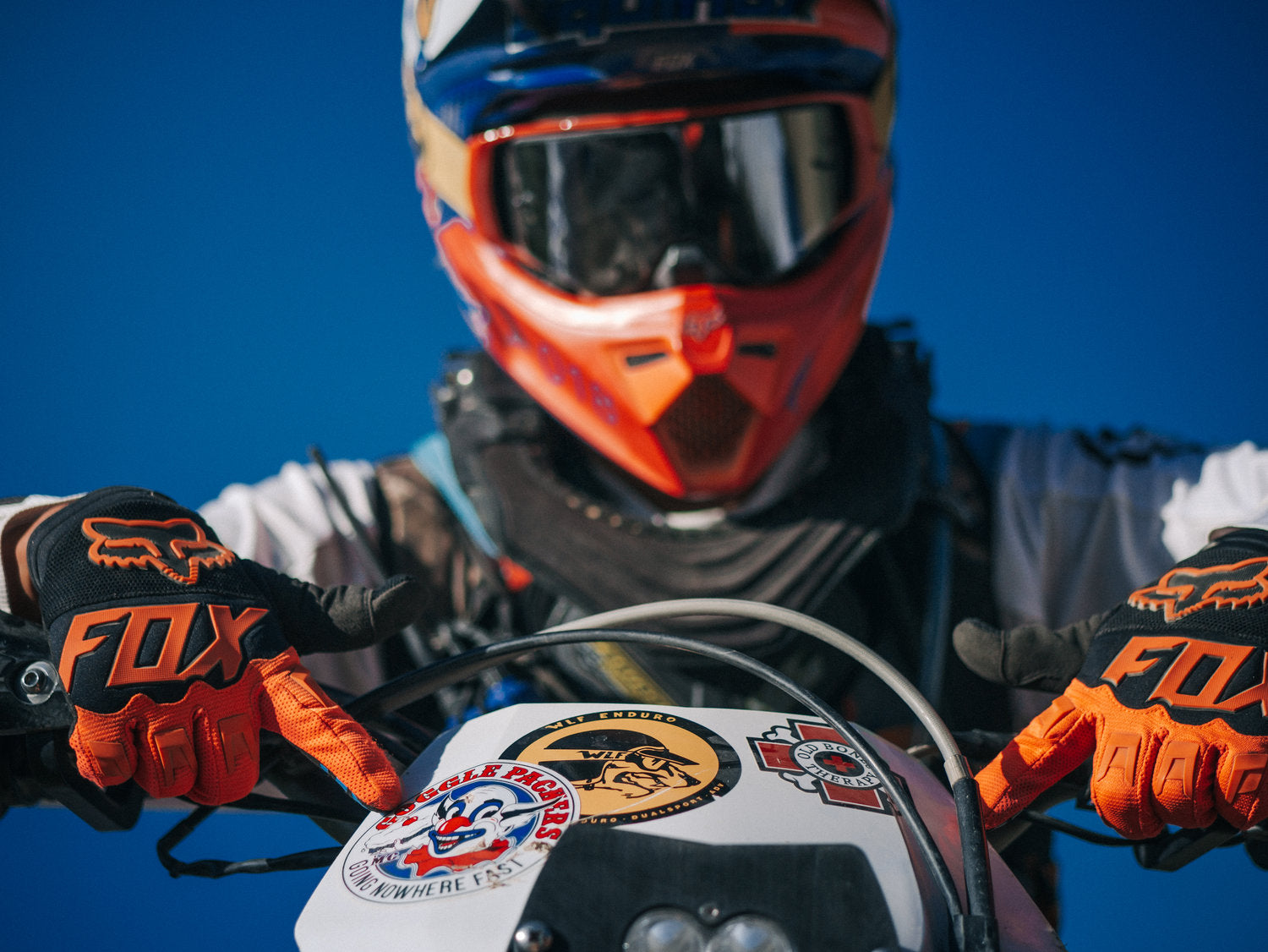 I have a few shout outs: Pro Valve, Liquinox, FMF and Lil-D, Shinko Tires Brian Morris for kicking it off and Kyle Isaacs for keeping it going, Paul Davis from Dragon, Blake from Tec Color Craft, No-Toil, Brett at CTI knee braces, Aubry at FOX, enduro coach Johnny Ringo, the incredible founders of WLF Enduro, Golden Road Brewery, Epicuren Discovery for keeping me and pretty, my ever loving wife Tamara, and my daughter, Mikayla for her courage and inspiration.
Hank would like to thank: SAG-AFTRA (he's an actor), Liquinox, Pro Valve, FMF, Shinko tires, Jeff Grosso from Anti Hero, Shrewgy from Ace, Lee from Creature/Oj wheels, souvenir magazine, and his mommy, Tamara for sacrificing so much so he can go ride dirt bikes with his old man and his dumb buddies!
- GET RAD
HANK & TOM: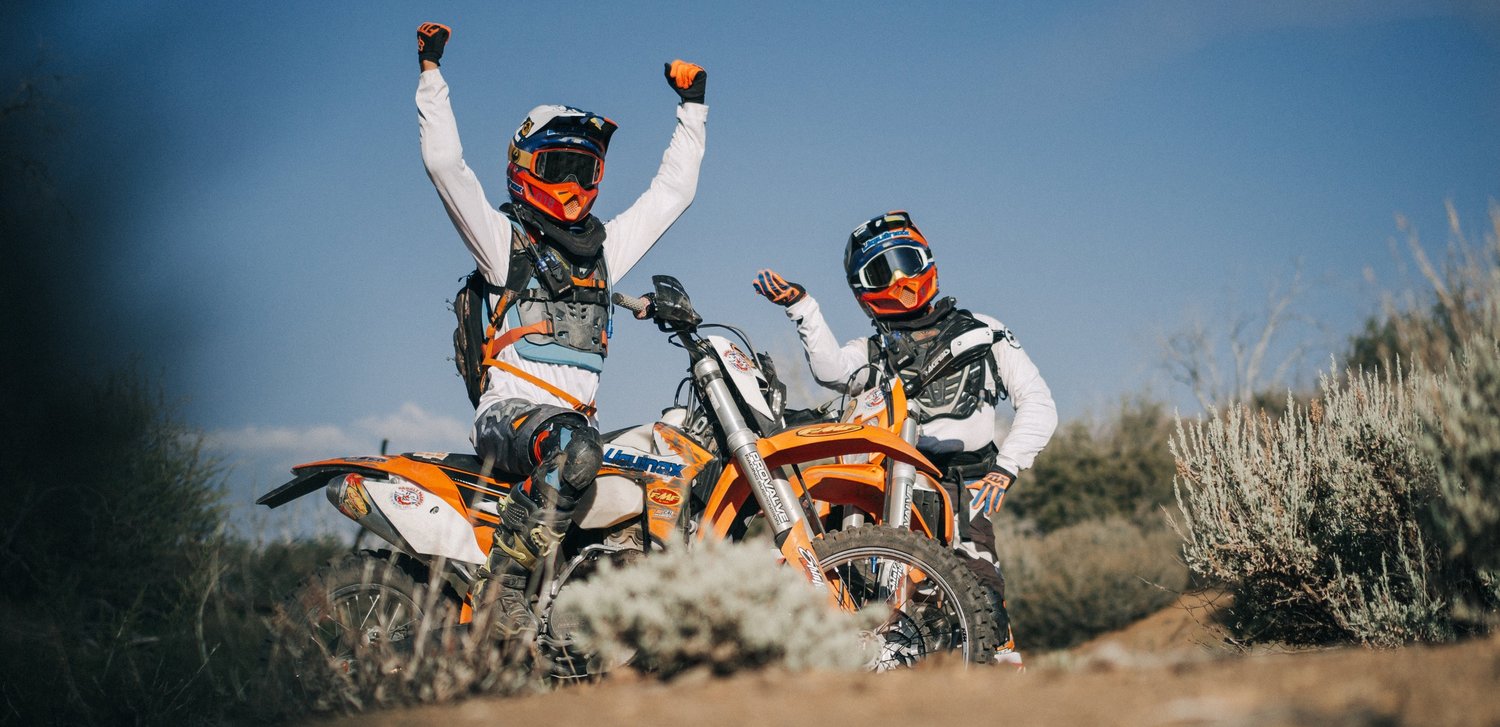 [WLF]
MESSAGE FROM THE TEAM:
Tom, Hank & the rest of team-BOZO have been an inspiration to the WLF core. We're definitely guilty of taking riding too seriously every now and again. If you follow any of the Goggle Packers crew they'll make sure to keep things on the next level. Tom & Hank have always been a massive support of WLF all the way back to the early days! They're always down to ride, crack a cold one and make sure to keep the good times rolling. W.E all need to just clown around every now and again. Thanks again for all the the hard work put into this awesome story Hank & Tom!! 👊💕